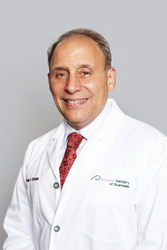 In all honesty, it was the most significant time of my career.
SCARSDALE, N.Y. (PRWEB) January 14, 2019
Advanced Dentistry of Scarsdale and Chappaqua Dentistry would like to congratulate Dr. Steven Brisman on being named President of the Greater New York Academy of Prosthodontics (GNYAP)! This is a big achievement for Dr. Brisman, as the mission of GNYAP is "to benefit dental patients by advancing the art, science, and practice of prosthodontics, encouraging the highest ethical standards and professional involvement, while promoting a better relationship among the other disciplines of dentistry and related professions."
On December 1st, Dr. Brisman was officially inaugurated as the 64th President of the GNYAP at the Metropolitan Club in New York City. There were over 275 in attendance at the academy's black tie gala at this prestigious and historic venue. It was the largest turnout for the academy in over 65 years--all the top clinicians, academicians and key decision leaders within the industry were there to congratulate Dr. Brisman, including corporate leaders of Nobel Biocare, Schein, Straumann, and many more. Dr. David Scharf, a Periodontist and personal friend of Dr. Brisman, gave a speech about Brisman's career path and his achievements in Prosthodontics. Dr. Brisman said, "In all honesty, it was the most significant time of my career."
For over 30 years, Dr. Brisman has served the Westchester County community by providing exceptional dentistry. As a prosthodontist, he specializes in dental prosthetics, like crowns, bridges, veneers, and dentures. Working closely with his associates at Advanced Dentistry of Scarsdale and Chappaqua Dentistry, he can also help create and place dental implants. His expertise and dedication has earned him his title and a medal of recognition from GYNAP. This is the same medal given to the founder of GYNAP in 1955.
After he is sworn in as President of GYNAP in early 2019, Dr. Brisman will still provide prosthodontic care to his patients in Scarsdale, Chappaqua, and the rest of Westchester county.