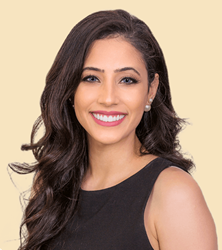 My goal is to offer patients the latest in cataract surgery, refractive surgery and the diagnosis and treatment of corneal diseases
MANSFIELD, Texas (PRWEB) July 08, 2020
Shaam Mahasneh, MD recently opened her ophthalmology practice, Advanced Eye and Laser Center of Mansfield, next to Methodist Medical Center in Mansfield, TX. She is a board-certified ophthalmologist with advanced training in cataract, corneal and LASIK surgery. As a native of Arlington, Texas, she brings her expertise in managing ocular disease and cutting-edge surgical techniques to the Mansfield, TX community. She is committed to providing the highest standard of care to each of her patients through personalized attention to detail, compassion and skill.
Dr. Mahasneh graduated summa cum laude from the University of Texas at Arlington and earned her Doctor of Medicine degree from the University of Texas, Southwestern Medical School. She completed her internship in general surgery at Methodist Dallas Medical Center, a high volume Level I Trauma Center and returned to UT Southwestern/Parkland Memorial Hospital to complete her ophthalmology residency training. While there, she served as Chief Resident and was accepted to their prestigious fellowship program in Cornea, External Disease and Refractive Surgery.
Dr. Mahasneh's fellowship training gave her exceptional skills and expertise in cataract surgery, refractive surgery (LASIK, PRK), corneal transplantation (DMEK, DSAEK, PKP, DALK) and collagen cross-linking for patients who have keratoconus.
"My goal is to offer patients the latest in cataract surgery, refractive surgery and the diagnosis and treatment of corneal diseases, while giving them a good patient experience," says Dr. Mahasneh.
Advanced Eye and Laser Center of Mansfield Services Include:

Laser Assisted Cataract Surgery with Premium IOL Implants
Clear Lens Extraction (CLE)
Eyelid Surgery (Blepharoplasty)
All-Laser LASIK
Photo Refractive Keratectomy (PRK)
Pterygium Removal
Glaucoma Diagnosis and Treatment
Dry Eye Treatment
Diabetic Eye Care
Eye Allergy Treatment
Comprehensive Eye Exams
About Advanced Eye and Laser Center of Mansfield
Located in the heart of Mansfield Texas, Advanced Eye & Laser Center of Mansfield is a comprehensive ophthalmology practice encompassing every aspect of eye care. Dr. Mahasneh is a board certified, fellowship-trained ophthalmologist who provides medical and surgical management of a wide variety of eye diseases and disorders. The practice is dedicated to offering its patients the latest innovations in cataract surgery, LASIK laser vision correction and corneal diagnoses and surgery. We offer complex cataract surgery, advanced laser assisted cataract removal, corneal transplant surgery (DMEK, DSAEK, PKP, DALK), and collagen cross-linking. We also specialize in multiple laser vision correction options including LASIK and PRK.
https://advancedeyeandlaser.com
252 Matlock Road, Suite 348
Mansfield, TX 76063
682.622.0004