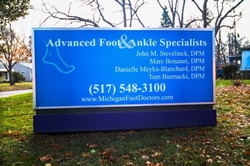 Thank you for making us your choice in Howell Michigan & Brighton Michigan for wound care, we have been working hard to keep your costs low, avoid any type of surgery, and get you healed as soon as possible!
HOWELL, Mich. (PRWEB) January 28, 2020
Advanced foot and ankle specialists of Howell, Michigan and Brighton Michigan have been performing foot and ankle wound care for over 20+ years in Livingston County. This medical practice includes four hospital trained podiatrists and wound doctors available to help patients with foot and ankle ulcer or wound needs.
Many people are not aware that podiatrists treat foot and ankle wounds. The truth is that most chronic wounds occur on the area of the foot and ankle. Common types are diabetic foot ulcers, venous insufficiency ulcers, lymphedema ulcers and ulcers related to peripheral neuropathy. Peripheral neuropathy is the decrease in sensation throughout the legs, the toes and foot. This can lead to damage and wound formation throughout the foot and ankle without the patient realizing that a wound has even developed.
Advanced foot and ankle specialists of Howell, Michigan and Brighton Michigan pride themselves on providing comprehensive the care and working as a multispecialty team. The four doctors at this practice are on staff at St. Joseph Mercy Hospital Livingston, St. Joseph Mercy Hospital Brighton, and St. Joseph Mercy Hospital Ann Arbor. Working as part of this large multi-disciplined team, they can work with internal medicine doctors, primary care doctors, endocrinologists and vascular surgery specialist to provide comprehensive care. This ensures that patients get award-winning and comprehensive care for their foot and ankle wound and ulcer.
Advanced foot and ankle specialists have four different doctors within their practice: Dr. Tom Biernack, Dr. John Stevelinck, Dr. Marc Bonanni and Dr. Danielle Meyka-Blanchard. All four of the foot doctors are on staff at St. Joseph Mercy hospitals. They pride themselves on serving Livingston County and Washtenaw County. Patients can find them at all major emergency rooms, and inpatient hospitals through the St. Joseph Mercy Hospital System.
In the past podiatrists were simply office-based clinicians, but now are all medical school and residency trained physicians. All four doctors have spent four years of medical school, and at least three years in a hospital-based surgical residency. The doctors' credentials include Harvard residency training and have even some have completed specialized fellowships in diabetic wound care and treatment. The doctors at Advanced Foot & Ankle Specialists are well trained, and their credentials show their experience! Advanced Foot & Ankle Specialists have been awarded as a great choice in Livingston County!
Dr. Tom Biernacki states "We are so thankful to be your choice for wound care in Livingston County! It is such an honor to be recognized as a great choice, the number one goal is to take great care of people's foot and ankle problems, with as little surgery as possible, and for as little cost as possible. We emphasize getting people better as quickly as possible, and it looks like we are starting to really make a difference. Thank you, Livingston County, Howell, Michigan and Brighton Michigan!"