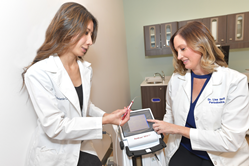 "Our practice goal is to provide exceptional service in a comfortable and caring environment. We are committed to preventative, minimally invasive and evidence-based treatment that helps save your teeth." - Dr. Melanie Towe, Advanced Implants and Periodontics, Frederick MD
FREDERICK, Md. (PRWEB) November 16, 2020
Advanced Implants & Periodontics now offers patients with periodontitis a quick and safe laser based treatment for gum disease. The LANAP protocol is minimally invasive treatment option that can help patients save their teeth.
Gum disease is a bacterial infection that can destroy the bone around your teeth if not treated properly. Without bone to support the teeth, they become loose and can fall out or be removed. The LANAP protocol is the only FDA cleared laser treatment that is scientifically proven to regenerate the bone, tissues and cementum destroyed by periodontal disease.
"Our practice goal is to provide exceptional service in a comfortable and caring environment. We are committed to preventative, minimally invasive and evidence-based treatment that helps save your teeth," states Dr. Melanie Towe. "Now, with the LANAP protocol, we have another approach to help more patients."
The impact of untreated gum disease goes well beyond the mouth. It has been linked to heart disease, diabetes, stroke, and certain cancers. Now patients in Frederick, MD have a safe and effective treatment option that is less invasive than traditional surgery with fewer post-operative effects.
"Offering LANAP to our patients aligns with our practice's core values of Integrity, Quality, Service and Compassion," sates Dr. Lisa Shoff. "LANAP treatment allows us to combine advanced technology with improving the patient experience and still provide long-term stable results."
The LANAP protocol uses the unique PerioLase® MVP-7™ dental laser to vaporize bacteria deep within the pockets of the gums while leaving healthy tissue intact. Patients choosing LANAP treatment enjoy fast healing times and more predictable results. Some of the primary benefits of LANAP laser surgery as compared to traditional cut-and-sew surgery are:

Less pain and very little downtime after treatment
Less sensitivity
Less gum loss
Promotes regeneration of supporting gum tissues and bone
The LANAP protocol is also safe for patients with health concerns. Patients taking medicine such as Plavix or aspirin can continue medications throughout treatment.
For information on the LANAP protocol, call Advanced Implants & Periodontics at (240) 651-5478 or visit https://frederickimplant.com.
ABOUT DR. TOWE:
Dr. Melanie Towe, DMD, MSD, DABP, DICOI
Ivy League Educated Board Certified Periodontist
Patients who meet with Dr. Towe immediately recognize both the passion she has for her work, and the professional manner in which she interacts with people. Dr. Towe's evaluations are highly based on the concerns and goals of the patient. You can be assured that you will be treated with compassion and integrity from the first phone call to your last appointment.
Dr. Melanie Towe grew up in Columbia, South Carolina and graduated Cum Laude from University of South Carolina. Dr. Towe received her dental degree from the University of Pennsylvania School of Dental Medicine, where she graduated at the top of her class with honors. After graduation, Dr. Towe spent 3 years at the Medical College of Virginia Advanced Graduate Periodontics program. Her training included traditional periodontal surgery, cosmetic soft tissue grafting, restoration of aesthetically challenging cases involving full mouth reconstructions using advance implant site preparation and placement protocols. Her surgical practice focuses on utilizing the most cutting-edge industry innovations, digital scanners and various CAD-CAM technologies.
Dr. Towe is currently on the faculties of the Virginia Commonwealth University as a Clinical Assistant Professor of Periodontics. Dr. Towe is a Diplomate of the American Board of Periodontology and the International Congress of Oral Implantologists. She maintains active memberships in many professional associations and lectures frequently at State Dental Associations and Study Clubs. (For full CV, please visit http://www.frederickimplant.com) She enjoys living in downtown Frederick, and spending time with her husband Wyatt and children Natalie and James.
ABOUT DR. SHOFF:
Dr. Lisa Shoff, DMD, MS, DABP
Ivy League Educated Board Certified Periodontist
Dr. Shoff was born and raised in York, PA and has returned to the area to be closer to family. Dr. Shoff completed her bachelors in Biology at the University of the Sciences in Philadelphia, PA where she was the valedictorian. Dr. Shoff received her dental degree and Masters from the University of Pennsylvania. After graduation, she entered the Air Force and completed a 1-year Advanced Education in General Dentistry residency in Northern California. Dr. Shoff served her country with the Air Force in Guam for 3 years, then entered the Periodontal residency at the University of Texas Health Science Center and Air Force Post Graduate Dental School. Dr. Shoff graduated top of her class from residency and was selected to teach an AEGD residency in Northern California. Dr. Shoff is a Diplomate of the American Board of Periodontists, and an active member of the American Academy of Periodontology. Dr. Shoff has lectured to local study clubs and presented her research at national meetings. Dr. Shoff continues to serve her country as a member of the Air National Guard.
Dr. Shoff and her husband, Eric, have been married for 14 years. In the past 3 years, they have grown to a family of 5 to include a corgi mix dog named Pliny, their son Samuel, and daughter Annie Joy. They love spending time together and love being outside. After living in Northern California near Napa/Sonoma for 4 years, they have really learned to appreciate great wine of all varietals. When Dr. Shoff is not busy keeping up with her kids, she loves to curl up with a good book. She also enjoys running, yoga, and Pilates. They are looking forward to settling down for good, exploring Frederick county, and getting involved in the community.