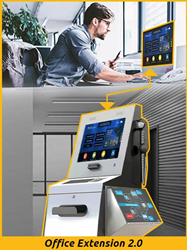 Office Extension 2.0 provides the convenience of 24-hour customer access while saving time and money by automating services.
CONCORD, N.H. (PRWEB) November 16, 2021
Advanced Kiosks, an industry-leading supplier of interactive self-service kiosks, has
released its latest product Office Extension 2.0, a complete self-service solution that serves as a 24/7 extension of any business office. This new product is designed for a variety of industries including government, Housing Authorities, Courthouses, and human resources
Office Extension 2.0 addresses many of the challenges faced by business offices today: how to serve clients when they can't make it to the office during operating hours or are located a distance from the office. Office Extension 2.0 provides the convenience of 24-hour customer access while saving time and money by automating services.
When deployed in the lobby of a leasing office or apartment building, Office Extension 2.0 allows tenants to pay rent, submit maintenance requests, or sign a lease whenever it may be convenient. In a courthouse, the solution allows visitors to pay fines, check in with probation officers, or look up court dates even when the facility is closed. Outside a company's human resources office, workers on the late shift can print pay stubs, sign up for benefits, or submit vacation requests any time of the day or night.
Businesses benefit through automating services that would otherwise require the attention of a staff member. Client information is kept safe and secure. When they fill out a form, scan a document, or complete any other services, the kiosk instantly and securely sends a PDF to a selected manager's inbox. So, for example, if a tenant in a housing complex signs a new lease, or a worker in a 24-hour manufacturing facility submits a request for a personal day, the manager will receive that PDF within seconds. It's the same if someone scans documents such as pay stubs or submits a copy of their driver's license.
In addition, managers will receive an automatic weekly report of kiosk usage, and can easily make changes to the kiosk user interface, update services, forms, and more from their computer.
Those features, and others, position Office Extension 2.0 as an additional 24/7 service center that can be located at the main office or across town, depending on the organization's needs.
Functions of the Office Extension 2.0 solution include:

Scanning – Guide users through scanning and securely sending documents.
Form filling – Provide a paperless, contactless method for filling out documents.
Printing – A variety of options, including label, ticket, and receipt printing.
Bill payment – Secure payment system for paying bills, rent, taxes, and fines.
VOIP services – Place phone calls through a directory or slideshow of quick-dial buttons.
Information access – Easily provide information to the people who need it.
"The Office Extension 2.0 solution is the perfect way to modernize interaction with customers," said Howard Horn, President at Advanced Kiosks. "And with organizations of all types striving to deliver 24/7 service with a limited staff and budget, this is a great way to do it."
For more information, including pricing, please call Advanced Kiosks at 603-865-1000 or visit their website today.
About Advanced Kiosks:
Advanced Kiosks is a complete solution provider, engineering self-service solutions for industries from government to higher education, human resources, entertainment, and everything in between.
Headquartered in Concord, N. H., Advanced Kiosks has served as a leader in the self-service kiosk industry for nearly 20 years and develops complete solutions for any industry.
Explore their website to learn self-service product solutions that benefit your business. Reach out to one of our kiosk professionals to get started on your kiosk project.