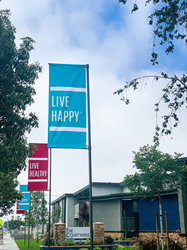 AMC is taking extra steps to reduce the financial and physical tolls COVID-19 is taking on residents and essential employees.
IRVINE, Calif. (PRWEB) April 30, 2020
Advanced Management Company (AMC), a full-service property management company that serves nearly 9,000 apartment homes across Southern California, has introduced measures to lighten the health and economic pressures on employees and residents. In addition to increasing the wages of nearly 300 essential workers by $2 per hour, AMC will distribute free washable face masks and bottles of hand sanitizer to all employees and residents. This follows an offer extended earlier this month: $100 off April rent for residents at qualifying communities.
"We know this crisis has impacted everyone and we want to do what we can to lighten the stress load for our residents and team members," said Frank Holloway, president of AMC. "Our residents and employees are our family. We want to treat them as such and share a message of hope, unity and compassion. We know we will get through this together and we are grateful for everyone who plays a role."
From April 27 through May 15, employees who work on-site in management, leasing, maintenance and construction roles at nearly 50 Southern California AMC communities will receive an additional $2 an hour in pay.
"This emergency assistance program represents an appreciation for the relentless dedication and personal sacrifice required to serve our VIPs and maintain our communities during the pandemic," Holloway said.
AMC has been proactive and generous with its support programs to both residents and employees. In addition to the $100 off April rent, AMC is offering rent deferment programs to residents and free rent incentive programs for things like referrals and lease re-signings. For leasing professionals, who are primarily offering virtual tours, commissions have been more than tripled. To assist in the effort of minimizing infections, AMC will distribute 9,000 washable face masks and 9,000 bottles of hand sanitizer to residents and employees.
About AMC
Started in 1982, Advanced Management Company is a privately owned property management company built on a foundation of ethical business practices. Those same principles are in place today, serving over 9,000 families in Southern California. Named a Top Workplace in Orange County for five years, AMC aims to deliver the highest-quality apartments and first-class customer service you can find. Find out more about careers, apartments for rent or investments at amcliving.com.