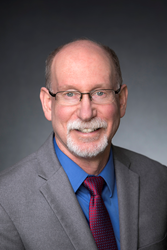 "It is my honor and privilege to serve as your next AUI president effective January 1, 2021" Dr. Scott Sellinger
OXFORD, Fla. (PRWEB) November 03, 2020
Advanced Urology Institute (AUI) is proud to announce that Dr. Scott B. Sellinger will become president in 2021.
He brings a wealth of experience and accomplishments to the position. Raised in upstate New York, Dr. Sellinger graduated from Syracuse University in 1982 with a Bachelor of Science degree in chemistry. After moving to Gainesville, he attended the University of Florida School of Medicine and graduated with honors in 1986. He completed his surgical internship and urological residency at UF. In 1987, he was named as Surgical Intern of the Year and in 1989 received the prestigious Harris Award for the outstanding urology resident.
He replaces Dr. Michael S. Grable, who is transitioning out of his role at the end of 2020 to spend more time away from the practice. Dr. Grable became president of Advanced Urology Institute in 2013 during the formative stages of the practice. His vision and leadership skills helped transform AUI into the successfully and highly respected practice it is today.
The AUI board of directors unanimously voted Dr. Sellinger as his replacement.
"It is my honor and privilege to serve as your next AUI president effective January 1, 2021," says Dr. Sellinger. "Please help me thank Dr. Mike Grable for his six plus years of service as president of our organization. Under his strong guidance and leadership, AUI has become one of the largest independent urology groups in the country. I look forward to many more years of growth and prosperity, and most importantly, standing tall on our commitment to world-class, patient-centered care."
Dr. Sellinger was president of Capital Medical Society in 2003 and served as president of the Florida Urological Society in 2005. He is past president of the Southeastern Section of the American Urological Association and is immediate past president of the American Association of Clinical Urologists (AACU). In addition, he has served on the board of directors for the Large Urology Group Practice Association (LUPGA) for the past six years. Dr. Sellinger has developed a special interest in risk management and prevention of medical errors and has lectured extensively on these subject matters during the past several years.
"Dr. Grable has kept our AUI organization consistently focused on our AUI mission of patient-centered care throughout his presidency, which has been the linchpin of our success," says AUI CEO Richard Wooten. "I am certain that Dr. Sellinger will continue to guide our AUI organization to greater heights. We welcome Dr. Sellinger as our second AUI president."
About Advanced Urology Institute:
Headquartered in Oxford, FL, Advanced Urology Institute (AUI) is a professional corporation of medical doctors (M.D.'s) who are board-certified and qualified in the surgical sub-specialty of urology. In addition to Oxford, AUI specialists are located throughout Florida in Ocala, Panama City, Tallahassee, Daytona Beach, St. Petersburg, Clearwater, Fort Meyers, and Naples. AUI was founded in 2014 as a single-specialty, physician led organization to respond more efficiently and effectively to the ever-mounting changes in healthcare and government regulations. This allows AUI to provide and dedicate the highest level in patient-centered care with over 600 providers, clinical and front office staff. Learn more at https://www.advancedurologyinstitute.com/