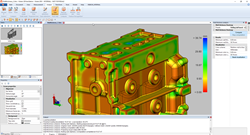 Our wall thickness analysis tool reflects its results by color coding objects and supplying an easy-to-decipher color key.
SACRAMENTO, Calif. (PRWEB) December 05, 2018
Sales representatives and project managers of plastic injection, casting and mold/die companies are all too familiar with the request from a customer inquiring about the effort and cost involved in producing a specific part. The part must be inspected and analyzed to draw these conclusions and supply an answer. What is the best tool for this purpose? An important function that supports this process is a wall thickness analysis tool. With 3DViewStation, KISTERS provides an easy-to-use, affordable visualization application that assists all users involved in this process.
The typical functionalities needed to support such processes are: the loading of native CAD files, volume calculations, measurements, dimensions, sections, annotations and the ability to isolate and inspect parts. The result of this work can be organized into views that are easily saved for later retrieval.
"Today, users think that advanced analysis functions are only available in CAD systems. However, 3DViewStation, which is a fast and easy-to-use software product, provides these functions at a much lower price point," said Kelly Baumann, KISTERS North America Business Development Manager. "Our wall thickness analysis tool reflects its results by color coding objects and supplying an easy-to-decipher color key. In addition, it is so fast that it provides real-time measurement."
"Bearing in mind that parts can be vastly different from one another, we implemented two options for wall thickness analysis. The first is based on the 'ray' method and the second is called 'rolling ball'," she added. "Complementary functions for our wall thickness analysis tool are our 'draft angle analysis' and 'projected area' tools. We offer these functions in our Desktop as well as our WebViewer products."
Known for its modern user-interface, high performance viewing, advanced analysis and integration capabilities into leading systems, 3DViewStation ships with current and mature importers for a broad range of 3D and 2D formats including i.e. Catia, NX, Creo, SolidWorks, SolidEdge, Inventor, JT, 3D-PDF, STEP, DWG, DXF, DWF, MS Office and many more.
The latest developments of 3DViewStation can be reviewed in more detail at: https://www.3dviewstation.com/blog.html.
According to Baumann, the KISTERS 3DViewStation is continuously enhanced in response to customer needs and requirements. It is available as Desktop, ActiveX, VR-Edition and HTML5 WebViewer product-versions. All product flavors are intended to be used together with a PLM, ERP or other management system product configuration or service and spare part applications, providing all necessary APIs. For cloud, portal and web-solutions, there is an HTML5-based WebViewer solution available, which does not require client installation. All file formats can be used in combination with the intelligent navigation and hyperlinking features to address needs of complex integration scenarios.
About the company
25 years success in the market with superior visualization solutions from desktop to mobile has proven KISTERS to be one of the top players in the visualization industry. Clients ranging from small firms to well-known multinationals, 3DViewStation's easy-to-use interface is suitable for all user groups and 100% customizable to each individual's specific requirements. More than 3,000 customers and over 200,000 installations worldwide. In addition, KISTERS offers expert advice and support in concept development based on client requirements.