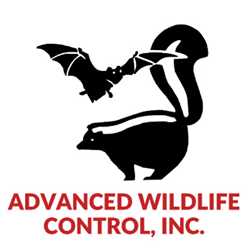 Calls for scratching in walls, bat removal, squirrel removal and other wildlife removal and prevention have been on the rise and we needed to add some supportive team members to assist.
DOVER, N.H. (PRWEB) April 01, 2021
Advanced Wildlife Control, Inc., a locally owned business that specializes in wildlife removal, control and prevention services, celebrates fourteen years in business in supporting NH Seacoast, Lakes and Southern Maine.
"Fourteen years ago, I set out on a mission to grow this little company with a job that I love," reflected Mike Ring, Owner and Operator of Advanced Wildlife Control, Inc. "Over the past year especially, we have seen the need to grow. With more people at home, we are finding more people are realizing they are not alone. Calls for scratching in walls, bat removal, squirrel removal and other wildlife removal and prevention have been on the rise and we needed to add some supportive team members to assist."
As is true to his well-known sense of humor, the founder chose April fools day as the day to start his business fourteen years ago. He maintains a good sense of humor with his customers, which are often coping with stressful situations and wildlife encounters. A bat flying around the house, never mind a colony in the attic or flying squirrels chewing on wires and making a mess of the exterior and interior, can be overwhelming to homeowners.
The team has been fortunate to connect with community members, both in-person and virtually. The Advanced Wildlife social media marketing team has become well known for weekly critter getter shenanigans with outtakes, videos, memes and even some fast facts to help lighten the mood and give some great information for business owners, homeowners, homebuyers and sellers.
The business, originally founded in the Seacoast region in 1985 and has evolved and expanded after being purchased by Mike in 2007. Over the years, they have learned how to strategically chart wildlife patterns to quickly uncover both their entry and exit points in the properties they service. The team has been fortunate to support companies like: Eversource, Walmart, Liberty Mutual, Portsmouth Naval Shipyard, East Brown Cow, Bean Group, and many other real estate groups in the current economy.
Today they offer full exclusion services and promote preventative measures – assuring all current and potential access points are secured to eliminate the potential of a wildlife encounter. The team has incorporated new technology using the latest wildlife control and prevention products like Ridge-Guard® and Bird Barrier® as well as Eco-Friendly Geese Deterrent Products.
"While they may be excellent at insect-driven solutions, the average pest control company doesn't understand the behavior of animals such as bats, squirrels, raccoons, birds and geese," said Mike. "These animals intelligently and strategically plot their movements and daily activities for survival. In many cases, pest control companies don't specialize in wildlife removal and exclusion so they cannot understand the complexity of performing these services thoroughly with warrantees."  
Whether you have birds invading your rooftops or parking garages, bats and squirrels in your attic keeping you up at night, skunks and woodchucks under your shed or porch, raccoons in the chimney putting a "damper" (get it?) on cozy fires, Geese strutting their "stuff "across the golf field or lawns, the Advanced Wildlife Control "Critter Getter" team, as they are fondly referred to in the community, is versed at complete wildlife control strategies with properties.
The team is trained with both commercial and residential properties to remove squirrels, bats, skunks, woodchucks, rodents, birds including geese, and other critters. They consult on recurring wildlife management, manage cleanup, damage repair, and prevention strategies. It is their mission to practice safe, humane wildlife animal control services to homeowners, businesses, and municipalities to keep wildlife where they belong-outdoors in the wild.
About Advanced Wildlife Control
Advanced Wildlife Control is a locally owned, full-service wildlife control company that specializes in both commercial and residential solutions including bat removal, raccoon removal, skunk removal, bird removal, squirrel and other invasive rodent removal, and prevention. The "Critter Getter" team members are experts at humane wildlife removal and exclusion. They guarantee satisfaction and offer extended warranty options to ensure the sanctity of the properties and peace of mind. They are a highly trained and qualified animal removal company offering their services to NH Seacoast & Lakes communities, Southern Maine, and surrounding areas.
For more information, visit them online http://www.advancedwildlife.com and be sure to follow them on social media for updates, tips and critter getter shenanigans: @crittergetterofficial
Don't forget to download your copy of Advanced Wildlife Control Homebuyer Checklist
--