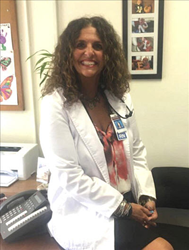 The premier center for Nursing and Rehabilitation in New Haven, CT!
New Haven, Connecticut (PRWEB) August 26, 2017
The Advanced Center for Nursing and Rehabilitation is excited to welcome a veteran healthcare professional as their new Director of Nursing Services!
Marley West, BSN,RN is a well known figure in the Connecticut healthcare field, having spent many years running successful nursing programs at various health and rehabilitation centers.
Most recently, Marley was the Director of Nursing and Rehab at a 345 bed facility in East Hartford, CT, where she was responsible for education and successful implementation of the Qualidigm initiatives which include: INTERACT program, C-Diff initiative and Antibiotic Stewardship. Ms. West successfully transitioned the facility from two-star quality measures to five-star quality measures and reduced their anti-psychotics from 36% to 17%. Marley spearheaded a successful effort to reduce hospital readmission rates from 16% to a current year to date rate of 7.5%
"I am really excited to have joined the amazing clinical team at the Advanced Center for Nursing and Rehabilitation in New Haven, CT," said Marley West. "I have seen up close the Executive Management's commitment to providing quality nursing care and a robust rehabilitation program for our residents. They have demonstrated a willingness to spare no expense in caring for our population. In fact, our multi-million dollar project currently underway to build a brand new sub-acute unit for short term rehabilitation, will ensure that Advanced Center remains ahead of the curve for many years to come!"
Marley is a member of the Phi Theta Kappa Honor Society and was the 2010 winner of the prestigious Vera Arterburn Memorial Scholarship.
To schedule a tour of our facility, or to apply for a position as a nurse or CNA, please call us, at: 203-789-1650