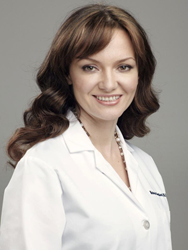 Recent research has moved scientists closer to understanding mechanisms of aging, including aging of skin, and the impact different substances have on cells and cellular processes.
New York, NY (PRWEB) October 18, 2017
Is science catching up with the hype about anti-aging skin creams and the claims of restorative benefits? "Maybe," says Valerie Goldburt, MD, PhD, of Advanced Dermatology PC, who indicates that recent research has moved scientists closer to understanding mechanisms of aging, including aging of skin, and the impact different substances have on cells and cellular processes.
However, Dr. Goldburt, a board-certified dermatologist, warns that more clinical, evidence-based studies of active ingredients in ointments and lotions are needed before physicians can declare what truly works in healing – and possibly reversing – skin damage caused by aging and sunlight.
Authors of a May 2017 article in the journal, Cosmetics, report that topical application of creams containing peptides appears to reduce wrinkles, improve skin volume and density, and increase overall skin tone. Peptides play key roles in natural processes like protein regulation, cell communication, blood-vessel development and immunity. They are advertised ingredients in some skin-care products.
In the same article, however, these researchers admit "a lot of additional work" is still required to understand the benefits and mode of action of the various peptides in commercial "anti-aging" formulations.
"There's no guarantee that over-the-counter cosmetic creams and lotions will repair skin and offer the long-term restorative effects that a patient seeks," Dr. Goldburt says. "Many commercial products fail to penetrate the top layer of skin. The Food and Drug Administration classifies these products as 'cosmetics,' with no medical value."
But, what if a longevity pill, potion or lotion could be developed?
Dr. Goldburt points to a possible breakthrough study published in a March 2017 issue of the journal, Science, identifying a natural metabolite, NAD+, which is inside all cells and plays a key role in regulating proteins that control the repair of DNA.
A compound boosting the activity of this metabolite can eliminate impairments in aging mice by returning their muscle function and tone to more youthful levels. The finding, the authors say, could lead to development of potent drugs that reverse deterioration of muscles, skin and other bodily organs due to aging.
A June 2017 publication suggests that the skin's outer layer, which protects underlying tissue from toxic bacteria and environmental pollutants – its "wettability" -- can be repaired and enhanced with topical use of surfactants commonly found in shampoos, soaps, even shaving cream, Dr. Goldburt says.
Previous research also has shown that:

Allantoin, an ingredient in many anti-aging creams, mimics the beneficial effects of a calorie-restricted diet and can potentially slow the aging process.
An extract from popular tree buds demonstrates anti-oxidant activity and has anti-aging effects on cells in the laboratory.
A balanced diet can slow aging and improve skin.
Despite these scientific advancements, "skin aging remains a complicated biological process involving genetics, hormones, cellular metabolism and environment," Dr. Goldburt explains. "Gradual changes in these factors all lead to eventual loss of skin elasticity, wrinkling, roughening of skin texture, dryness and a breakdown in skin's cellular structure."
Because skin and overall body appearance has such significant impact on a person's self-image, global demand for anti-aging products and services may exceed $216 billion by 2021, market experts say.
To anyone seeking improvement for aged and sun-damaged skin, Dr. Goldburt offers this advice:

Talk to a dermatologist first about treatment options.
If using commercial skin-care products, select those with ingredients like vitamin A, peptides, and hydroxy acids all of which have reported beneficial effects on wrinkles.
Understand that non-prescriptive ointments contain lower concentrations of active ingredients and, therefore, offer fewer benefits.
Don't purchase products simply because they contain more than one active ingredient. Combinations of ingredients do not guarantee a product is more effective.
Should you experience side effects like a burning sensation, peeling, or redness, stop using the product.
Stop smoking.
Avoid suburns.
Valerie Goldburt, MD, PhD, is board certified and specializes in medical and cosmetic dermatology at
Advanced Dermatology P.C.
Advanced Dermatology P.C. and the Center for Laser and Cosmetic Surgery (New York & New Jersey) is one of the leading dermatology centers in the nation, offering highly experienced physicians in the fields of cosmetic and laser dermatology as well as plastic surgery and state-of-the-art medical technologies. http://www.advanceddermatologypc.com.