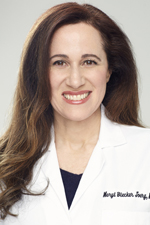 While there is no 'magic potion' or miracle that exists in a jar or a pill, there are many exciting ways to keep skin looking healthy and youthful for as long as possible.
Manhattan, NY (PRWEB) December 03, 2015
What is collagen and why is it so important for beautiful skin? As explained by Dr. Meryl Blecker Joerg, dermatologist with Advanced Dermatology PC, collagen is a collection of proteins naturally present in the skin. "Collagen makes up about 75% of our skin. It is a naturally occurring substance produced by the body that keeps the skin looking plumped, line-free, and youthful. It adds an alluring smoothness to the skin; it is often referred to as nature's fountain of youth."
Unfortunately collagen production declines as we get older. "Not only do we produce less collagen, but the breakdown of existing collagen is also unavoidable," says Dr. Joerg. Skin can lose its tone and elasticity and we my begin to see lines, wrinkles and sagging skin.
So, does this mean we are all destined to have dull, wrinkly or sagging skin as we age? Absolutely not, says Dr. Joerg. "While there is no 'magic potion' or miracle that exists in a jar or a pill, there are many exciting ways to keep skin looking healthy and youthful for as long as possible."
Tips for Youthful Looking Skin
To start, anti-aging skin care products abound, and are available both over-the-counter and by prescription. Many are scientifically proven to increase collagen levels, slow down the skin aging process, and help maintain a youthful glow. It should come as no surprise that collagen is one of the most frequently listed ingredients in high-end skin care products. Other ingredients to look for include Vitamin C, retinoids (a derivative of Vitamin A), Vitamin E, amino acids and green tea. Retinoids increase collagen production while vitamin C and E and Green Tea are all antioxidants which will slow down the breakdown of collagen.
In addition to topical preparations, fillers are injections that can plump up, lift, fill in fine lines and wrinkles and replenish the skin to restore its natural beauty. There are many different types of fillers. Those made of hyaluronic acid, a substance which is naturally found in the skin, include Juvederm line of products including Voluma and the Restylane line of products. Other fillers that are used to give the skin a lift are composed of calcium hydroxyl apatite (a collagen stimulator and semi-permanent wrinkle filler) and poly-L-lactic acid (a synthetic polymer that stimulates the body's own collagen production.)
Further, exciting scientific research now supports the effectiveness of taking oral collagen supplements in pill or powder form. In a large double-blind, placebo-controlled study published in 2014, women who took 2.5 g of a particular hydrolyzed collagen peptide once a day for eight weeks showed an elevation in their body's production of procollagen by as much as 65 percent! While this is new science, Dr. Joerg acknowledges that collagen supplements are but one more option in a growing arsenal of tools available to boost collagen production.
In addition, she also offers the following tips to help maintain your skin's collagen level and preserve its youthful, radiant appearance:

Try to reduce stress. Stress increases the production of cortisol, which can break down collagen.
Maintain a healthy diet and drink lots of water. Since collagen is a protein produced naturally by your body, you want to keep your body in balance and functioning optimally.
Exercise. Collagen production may be boosted if your body is operating at peak efficiency. Since collagen production may slow during times of illness, you should exercise to maintain that youthful glow.
Protect from the sun. Use a moisturizer with SPF 30 or above sunscreen daily to protect skin against harmful rays to prevent the breakdown of collagen and elastin.
Moisturize daily with a high quality skin care lotion that contains collagen or a collagen boosting ingredient.
Maintain a positive attitude about life and remember to have fun and smile! Don't worry about 'smile lines'! If you are happy in life and take good care of yourself, your skin will 'bounce back' and you are sure to have more youthful and beautiful looking skin.
Dr. Meryl Blecker Joerg, M.D., F.A.A.D., is a board certified dermatologist and an Assistant Clinical Professor in the Cosmetic Clinic at Mount Sinai Hospital in New York City. She has been a member of Advanced Dermatology and the Center for Laser and Cosmetic Surgery since 1997.
Advanced Dermatology P.C. and the Center for Laser and Cosmetic Surgery (New York & New Jersey) is one of the leading dermatology centers in the nation with 13 locations in New York and New Jersey, offering highly experienced physicians in the fields of cosmetic and laser dermatology as well as plastic surgery and state-of-the-art medical technologies. http://www.advanceddermatologypc.com