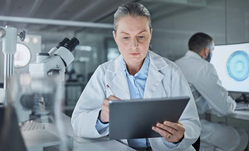 JUPITER, Fla. (PRWEB) February 21, 2023
An upcoming episode of Advancements with Ted Danson will focus on recent developments in scientific research, diagnostic solutions, and disease treatment for improved healthcare.
In this segment, viewers will discover how science and computational intelligence are pushing the boundaries of medical understanding and diagnostics. Hearing from AI experts and medical leaders, audiences will discover how Oxford Immune Algorithmics' (OIA) multidisciplinary approach tackles some of the most pressing human health challenges, such as infection, cancer, and antibiotic resistance.
Audiences will learn about OIA's flagship product, Algocyte, a cutting-edge AI-driven solution designed to monitor people's health, with minimally invasive intelligent blood testing and lifestyle data collection that aims to help individuals live longer and healthier lives.
"Algocyte learns from the user and builds a hematological digital twin over time, a version of the individual's baseline health data against which to track deviations from their personal optimal health remotely and in a timely fashion," said Dr. Hector Zenil, CEO.
Spectators will see how OIA combines mind and machine to fight disease, as the show explores its super-human-like Artificial General Intelligence (AGI) technology, which was designed to tackle disease and bring decentralized, precise, and personalized medicine to everyone.
"We look forward to sharing how developments in technology are improving healthcare worldwide for early diagnosis, better disease treatment, and equal access to medical advice," said John Galvin, senior producer for the Advancements series.
About Oxford Immune Algorithmics:
Incubated by the University of Oxford, OIA is a deep-tech start-up that aims to apply super-human-like Artificial General Intelligence (AGI) to tackle disease and bring precise and personalized medicine to everyone.
For more information, visit: https://www.immunealgorithmics.com/
About Advancements and DMG Productions:
Advancements is an information-based educational television series that explores recent developments taking place across several industries and economies. Shining a light on important issues and topics impacting society today, the series features the cutting-edge improvements, state-of-the-art technologies, and innovative solutions responsible for shaping, molding, and transforming our world.
Backed by experts in various fields, DMG Productions is dedicated to education and advancement, and to consistently producing commercial-free, educational programming for viewers and networks.
For more information, please visit http://www.AdvancementsTV.com or call 866-496-4065.