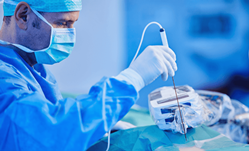 JUPITER, Fla. (PRWEB) May 12, 2021
In an upcoming episode, the award-winning series, Advancements with Ted Danson, will focus on recent breakthroughs in medical technology.
In this segment, Advancements will explore how Interventional Systems (iSYS) – a precision medical robotics company – brings together technology and medicine to build cutting-edge, miniature robotics solutions.
Viewers will see how the technology allows for more precise, seamless, and cost-effective image-guided medical interventions.
"Interventional Systems has worked for over ten years in creating, expanding, and thoroughly validating its portfolio in medical robotics," said Michael Vogele, Interventional Systems founder and CEO. "We believe our product is bound to democratize medical robotics in the U.S., given its combination of astounding results and reasonable price. We look forward to showcasing Micromate's capabilities to both healthcare professionals and the general public."
Hearing from experts in the field, audiences will learn how research and development have played a major role in understanding the medical procedures' environment. In addition, spectators will see how iSYS is creating tomorrow's medical robotics, today.
"iSYS holds a strong commitment to building products that increase efficiency, flexibility, scalability, and ease of use for medical teams while being comfortable, safe, and hygienic for patients," said Matt Mylander, producer for the Advancements series. "We look forward to sharing this information with viewers."
About Interventional Systems:
Through its miniature robotics solutions for image guided interventions and patient stabilization products, Interventional Systems leverages technology to bring medical interventions into the future. Interventional Systems is committed to making healthcare simpler, more comfortable, more hygienic, more affordable, and more efficient.
Interventional Systems is headquartered in Kitzbühel, Austria, and has offices in Austria and Germany. For more information, visit: http://www.interventional-systems.com.
Advancements and DMG Productions:
The Advancements series is an information-based educational show targeting recent advances across a number of industries and economies. Featuring state-of-the-art solutions and important issues facing today's consumers and business professionals, Advancements focuses on cutting-edge developments, and brings this information to the public with the vision to enlighten about how technology and innovation continue to transform our world.
Backed by experts in various fields, DMG Productions is dedicated to education and advancement, and to consistently producing commercial-free, educational programming on which both viewers and networks depend.
For more info, please visit: http://www.Advancementstv.com or call Matt Mylander at 866-496-4065.