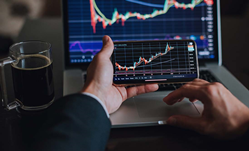 JUPITER, Fla. (PRWEB) February 27, 2023
An upcoming episode of Advancements with Ted Danson will discover how developments in finance and technology are impacting the ease of trading in crypto—and possibly in finance as a whole.
The show will explore how Krypton Labs' (Krypton) novel peer-to-peer decentralized (DeFi) exchange is helping to solve the age-old issue of cost inefficiency in trading, which to date has been even worse in crypto than traditional finance. Viewers will learn how Krypton has implemented a trading approach that offers a quantum leap forward from legacy trading mechanisms in both DeFi and traditional platforms. Audiences will discover how this innovation eliminates the problems of front-running and statistical arbitrage, which will help to massively reduce trading costs in crypto, and ultimately in traditional finance.
"Krypton is backed by decades of academic research and is the most efficient trading mechanism to be implemented in any setting," said Michael Nowotny, co-founder and CEO of Krypton. "The ability to transact is at the heart of finance, and this critical financial infrastructure will unlock a new era of economic potential."
Hearing from experts in the field, the show will explore how a user-friendly design makes it easy to adopt the novel technology. Spectators will learn about the trade mechanism powering the exchange, which is based on a well-studied area of academic finance. Viewers will also see how Krypton updates the traditional order book exchange with a mechanism that matches orders based on price and trading speed, rather than price and quantity – turning a trader's urgency to execute a trade into a public market signal.
In addition, the show will explore how this subtle but important shift in perspective will provide incredible cost savings to both institutional and individual traders alike.
"Krypton gives regular traders a way to credibly signal that they are not trying to front-run or exploit short-term information via a choice of trading speed," said Colin Ferguson, senior producer for the Advancements series. "We look forward to sharing this with viewers."
About Krypton Labs:
Krypton is dedicated to the idea that functional markets are fair markets, where users can get the trade they want at a cost that makes sense. Krypton's academic roots are the foundation of its novel approach to solving the challenges of building a decentralized financial system, and is proud to offer a truly novel approach to exchange architecture with the Krypton DEX.
For more information, visit: https://krypton.exchange/.
About Advancements and DMG Productions:
Advancements is an information-based educational television series that explores recent developments taking place across several industries and economies. Shining a light on important issues and topics impacting society today, the series features the cutting-edge improvements, state-of-the-art technologies, and innovative solutions responsible for shaping, molding, and transforming our world.
Backed by experts in various fields, DMG Productions is dedicated to education and advancement, and to consistently producing commercial-free, educational programming for viewers and networks.
For more information, please visit http://www.AdvancementsTV.com or call 866-496-4065.