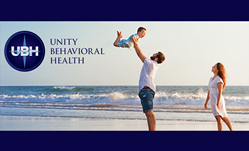 "Unity Behavioral Health is dedicated to making a difference in the lives of individuals battling addiction..."
JUPITER, Fla. (PRWEB) December 17, 2018
In an upcoming episode of Advancements with Ted Danson, the series will focus on recent developments taking place in addiction treatment. This episode is scheduled to broadcast 2nd QTR, 2019 via CNBC. Check your local listings for more information.
This segment will shine a light on Unity Behavioral Health (Unity), a leading drug and alcohol rehabilitation center specializing in holistic and dual diagnosis addiction treatment.
"The definition of addiction has evolved to be defined by the American Society of Addiction Medicine as a primary, chronic disease of brain reward, motivation, memory and related circuitry. Dysfunction in these circuits leads to characteristic biological, psychological, social and spiritual manifestations. This is reflected in an individual pathologically pursuing reward and/or relief by substance use and other behaviors," said Jason T. Ackner, CEO of Unity Behavioral Health. "Neuro Behavioral Science has progressed to meet that definition. While CBT, DBT, AA/NA are all helpful tools, you still have a dysregulated brain. Neuro Behavioral Therapy enhances the treatment process by helping to re-regulate the brain's reward system and allow the patient to maximize the benefits of the treatment process."
The show will explore Unity's variety of comprehensive programs, which are designed to treat addiction and co-occurring mood disorders, along with medical health issues.
"Employing successful, proven, evidence-based treatment modalities along with cutting-edge holistic therapies, Unity Behavioral Health is dedicated to making a difference in the lives of individuals battling addiction," said Rochelle Hyman, senior producer for the Advancements series.
About Unity Behavioral Health:
Unity Behavioral Health employs evidence-based practices that have been proven scientifically to have a positive impact on recovery. It relies on a team of highly trained, multidisciplinary professionals to outline a step-by-step plan for our patients to achieve success during rehab. The process begins with a medically supervised detox, where patients are seen by medical staff and monitored 24-hours per day by nursing and clinical staff. In addition, a thorough psychiatric evaluation is done to uncover any pre-existing mental health conditions, which may have contributed to the development of the addiction. Using this information, Unity Behavioral Health creates a personalized treatment plan for each patient. Its team of addiction care specialists only use recovery strategies that are supported by extensive research to help patients find their individual paths to lasting sobriety. For more information, visit: http://www.unityrehab.com.
About Advancements and DMG Productions:
The Advancements series is an information-based educational show targeting recent advances across a number of industries and economies. Featuring state-of-the-art solutions and important issues facing today's consumers and business professionals, Advancements focuses on cutting-edge developments, and brings this information to the public with the vision to enlighten about how technology and innovation continue to transform our world.
Backed by experts in various fields, DMG Productions is dedicated to education and advancement, and to consistently producing commercial-free, educational programming on which both viewers and networks depend. For more info, please visit: AdvancementsTV.com.