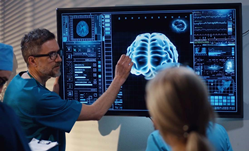 JUPITER, Fla. (PRWEB) November 29, 2021
Advancements with Ted Danson is scheduled to broadcast a new episode on Saturday, December 4, 2021, at 2:30 PM ET, via CNBC. Check local listings for more information.
In this episode, audiences will learn about recent developments in personalized brain health, as Advancements explores REACT Neuro – a team of neuroscientists, engineers, and entrepreneurs who have come together with the vision of redefining brain health. Spectators will see how REACT Neuro uses decades of breakthrough research from leading labs around the world to make its digital platform accessible, everywhere.
The show will explore how ResBiotic is pioneering microbiome-based products for improving respiratory health. Spectators will see how the first-in-class, over-the-counter probiotic supplement targets microbiomes in the gut-lung axis, modulating the inflammation of the body, breaking the cycle brought about by chronic respiratory illness associated with lung dysbiosis.
Viewers will also learn about sensory peripheral neuropathy, its symptoms, and how it affects people's balance and mobility on a daily basis. With a look at RxFunction, makers of Walkasins®, audiences will learn how the system is designed to replace the lost sensory nerve function from the bottom surface of the foot and how the technology works to deliver non-invasive, gentle sensory stimuli, using real-time foot pressure changes during activities.
Hearing experts in the field of social entrepreneurship, the final segment will explore how investing in the development of new technologies and establishing new markets (within hard to reach or under resourced populations) provides both great business opportunities and an incredible force for doing good. Learning firsthand from Vestergaard, viewers will learn how technology and innovation are driving change and are improving the quality of life for people living in underdeveloped countries.
"We look forward to exploring how technology is being used to improve health and longevity and is making life better for people around the world," said Sarah McBrayer, creative director for the Advancements series.
###
About Advancements and DMG Productions:
The Advancements television series is an information-based educational program, targeting recent advances across a number of industries and economies. Featuring state-of-the-art solutions and important issues facing today's consumers and business professionals, Advancements focuses on cutting-edge developments, and brings this information to the public with the vision to enlighten about how technology and innovation continue to transform our world.
Backed by experts in various fields, and a team dedicated to education and advancement, DMG Productions consistently produces commercial-free, educational programming on which both viewers and networks depend.
For more information visit http://www.AdvancementsTV.com or call (866) 496-4065.