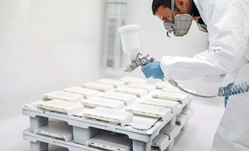 "Every morning we embrace the work that we do, to not only serve our customers, but ultimately to serve the patient in a hospital bed or the pilot of an aircraft..."
JUPITER, Fla. (PRWEB) May 28, 2020
Advancements with Ted Danson will focus on recent innovations in finishing solutions and manufacturing strategies in an upcoming episode, scheduled to broadcast in the fall of 2020. Check local listings for more info.
In this segment, Advancements will focus on Expert Coatings & Graphics (ECG) and will educate about its innovative manufacturing solutions in a wide array of secondary operations including cosmetic, protective and functional coatings, EMI/RFI conductive finishes, graphics application, assembly, warehouse and distribution.
In addition, the show will explore how ECG serves an esteemed caliber of global organizations and OEM leaders in the medical, aerospace, defense, and automotive industries.
"We are honored to participate in this series, not only because it highlights our passion for excellence in manufacturing, but also because finishing –whether it be for aesthetic purposes, abrasion resistance, chemical resistance to prevent contamination and corrosion, or long-term durability for resilience out on the field– is an important and yet often overlooked step in the final phase of manufacturing. Every morning we embrace the work that we do, to not only serve our customers, but ultimately to serve the patient in a hospital bed or the pilot of an aircraft, who will be utilizing the product. It is a tremendous responsibility and our highest calling as a specialized contract manufacturer," said Sandra Ceron, Owner & CEO of Expert Coatings & Graphics.
Audiences will also learn about ECG's advanced techniques in environmentally sustainable coating applications and will hear about its aim to go above and beyond customers' expectations. Spectators will see how by offering manufacturing strategies during the design phase to supply chain management solutions throughout production, ECG reduces risk for the buyer. The series will also highlight how ECG offers cost-efficiency by streamlining procurement, sub-assembly of parts and components, material handling, inventory control, warehousing, packaging, kitting, logistics and distribution.
"Cognizant of the highest quality standards demanded by the medical and aerospace industries, ECG demonstrates an unwavering commitment to the success of its customers, while maintaining sustainable practices and sound solutions for cosmetic perfection with minimal environmental impact," said Senior Producer, DJ Metzer. "We look forward to exploring this topic and sharing it with our viewers."
About Expert Coatings & Graphics:
Expert Coatings & Graphics specializes in customized decorative and functionally purposed finishing solutions for plastic and metal parts and components used by the medical, aerospace, and defense industries. Comprised by a dedicated and skilled team of professionals, ECG caters to all aspects of its customers' design, production, delivery and quality assurance requirements with the highest level of commitment and response to evolving needs. For more information, visit: http://www.ecgcompany.com.
About Advancements and DMG Productions:
The Advancements series is an information-based educational show targeting recent advances across a number of industries and economies. Featuring state-of-the-art solutions and important issues facing today's consumers and business professionals, Advancements focuses on cutting-edge developments, and brings this information to the public with the vision to enlighten about how technology and innovation continue to transform our world.
Backed by experts in various fields, DMG Productions is dedicated to education and advancement, and to consistently producing commercial-free, educational programming on which both viewers and networks depend.
For more info, please visit: AdvancementsTV.com or call DJ Metzer at 866-496-4065.