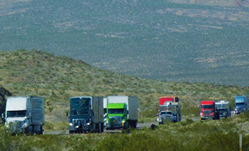 JUPITER, Fla. (PRWEB) November 21, 2022
An upcoming segment of Advancements with Ted Danson will focus on sustainable improvements taking place in the supply chain and logistics industry.
This segment will explore the current state of the supply chain and logistics sectors and how the recent pandemic affected the industry. The show will educate about the importance of efficiency and logistics as it explores how ANR Logistics tailors transportation needs to help businesses overcome barriers and gain a competitive advantage in today's ever-evolving transportation sector.
Spectators will see how ANR oversees the efficiency of its operation to maximize the quality and accuracy and will learn how it factors efficiency into operations to enhance sustainability and minimize its carbon footprint.
"With volatile fuel prices and rising inflation, ANR Logistics uses technology to optimize costs. We are dedicated to furthering our contribution to the advancement of technology throughout the supply chain. Building a bridge between customers and service-based carrier companies, ANR helps carriers minimize truck downtime," said Jason Anderson, Director of Strategy, ANR Logistics.
"ANR is a family-owned and operated business focused on providing high-quality services throughout the transportation industry," said Richard Lubin, senior producer for the Advancements series. "We look forward to exploring how the company remains dedicated to delivering highly efficient and responsible services.
About ANR Logistics:
ANR Logistics is a family-owned and operated business focused on providing innovative services to the supply chain industry. ANR handles every detail of its customers' particular logistics and forwarding needs and helps to solve logistical problems to keep fleets moving.
For more information, visit: http://www.anr-logistics.com.
About Advancements and DMG Productions:
Advancements is an information-based educational television series that explores recent developments taking place across several industries and economies. Shining a light on important issues and topics impacting society today, the series features the cutting-edge improvements, state-of-the-art technologies, and innovative solutions responsible for shaping, molding, and transforming our world.
Backed by experts in various fields, DMG Productions is dedicated to education and advancement, and to consistently producing commercial-free, educational programming for viewers and networks.
For more information, please visit http://www.AdvancementsTV.com or call 866-496-4065.