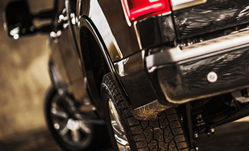 "As we say, 'preparation plus opportunity equals success'," said Brandon Doman, President & Co-Founder, Weigh Safe.
JUPITER, Fla. (PRWEB) October 02, 2020
Scheduled to broadcast 1Q/2021, Advancements with Ted Danson will focus on recent developments in towing technologies and safety solutions. Check local listings for more info.
In November of 2013, Weigh Safe emerged into the towing industry at the SEMA Show, where it won Best New Tools and Equipment Product of the year for its (now) patented trailer hitch ball mount with built-in scale for measuring tongue weight.
This segment of Advancements will explore how Weigh Safe's patented technology has revolutionized the industry and created an even more important demand for safety and performance.
Viewers will discover Weigh Safe's expertise in mechanical, electrical, and production engineering, and will appreciate their attention to precision hands-on design and machining. They will also learn how Weigh Safe's product development and manufacturing team continues to innovate in the development of towing products, along with new innovative towing accessories.
"We've spent the past seven years preparing and innovating. As we say, 'preparation plus opportunity equals success'," said Brandon Doman, President & Co-Founder, Weigh Safe. "The success we've seen has been astounding, especially in this industry, one which has been starved of innovation up until now. We look forward to educating the industry about how we are changing it, and how together, we can make the towing industry safer and more enjoyable for everyone involved."
Audiences will also be educated about Weigh Safe's high-quality steel and aircraft grade aluminum components along with their process of programming and machining to the tightest tolerance with state-of-the-art CNC machinery.
In addition, spectators will see how Weigh Safe's rigorous inspection and testing processes ensure that it meets or exceeds industry standards and expectations.
"Weigh Safe has brought the towing industry a true 'Towing Peace of Mind'," said Mike Brandt, producer for DMG Productions and the Advancements series. "We look forward to exploring this technology on the show."
About Weigh Safe:
Weigh Safe is a leader in providing innovative products for the towing industry. "Providing Towing Peace of Mind" Weigh Safe's built-in hydraulic scale provides an instantaneous vehicular tongue weight reading. This measurement allows users to adjust their load before hitting the road, resulting in a much safer towing experience. For more information, visit: https://www.weigh-safe.com.
About Advancements and DMG Productions:
The Advancements series is an information-based educational show targeting recent advances across a number of industries and economies. Featuring state-of-the-art solutions and important issues facing today's consumers and business professionals, Advancements focuses on cutting-edge developments, and brings this information to the public with the vision to enlighten about how technology and innovation continue to transform our world.
Backed by experts in various fields, DMG Productions is dedicated to education and advancement, and to consistently producing commercial-free, educational programming on which both viewers and networks depend.
For more information, please visit http://www.AdvancementsTV.com or call Mike Brant at 866-496-4065.