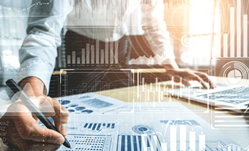 JUPITER, Fla. (PRWEB) September 22, 2020
An upcoming episode of Advancements with Ted Danson will focus on innovations in business development, IT technology, and risk strategies and solutions. Check local listings for more information.
This segment of Advancements will explore how BECK Strategies Inc. (BECK) provides transformational business consulting solutions to its partners through ServiceNow®. Viewers will learn how the technology helps customers drive change via the people, processes, and technologies available on the ServiceNow® platform.
"We are delighted to have been chosen to be a part of the Advancements series and showcase some of the things BECK is doing within the ServiceNow platform to help people work smarter," said Mark A. Ceely, CEO.
Hearing from experts in the field, audiences will learn how the ServiceNow® platform works, which covers a wide range of business units, including service management, business management, integrated risk, and security options.
"We look forward to educating the public about how technology is helping to provide a wider variety of solutions to businesses today," said William Mensch, producer for DMG Productions and the Advancements series.
About BECK Strategies:
BECK is a Service-Disabled Veteran Owned Small Business and 100 percent dedicated ServiceNow Partner. BECK is committed to help drive businesses into the future by building more efficiencies through workflows. BECK has achieved a 400 percent growth, year over year, while maintaining a perfect customer satisfaction score of 5 out of 5. 
BECK is a ServiceNow Sales, Services, Technology, Service Provider, Next Gen Training, and Public Sector Premier Partner. Its two primary focus areas are IT Operations Management and IT Business Management. BECK also covers a wide range of business units within the ServiceNow platform to include ITSM, SecOps, and Integrated Risk. For more information, visit: http://www.beckstrategies.com.
About Advancements and DMG Productions:
The Advancements series is an information-based educational show targeting recent advances across a number of industries and economies. Featuring state-of-the-art solutions and important issues facing today's consumers and business professionals, Advancements focuses on cutting-edge developments, and brings this information to the public with the vision to enlighten about how technology and innovation continue to transform our world.
Backed by experts in various fields, DMG Productions is dedicated to education and advancement, and to consistently producing commercial-free, educational programming on which both viewers and networks depend.
For more info, please visit: http://www.Advancementstv.com or call Will Mensch at 866-496-4065.