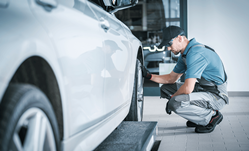 "Quality Resolution Systems simplifies the process by bridging functional gaps between corporate and support operations."
JUPITER, Fla. (PRWEB) October 16, 2020
Advancements with Ted Danson will focus on innovations taking place in the automotive industry in an upcoming episode, scheduled to broadcast Q1/2021.
In this ever-evolving world of technological advancements, the race to the top means purging countless traditional practices known in the automotive industry. The prehistoric way of banging nails with hammers have been replaced with digital technology at our fingertips to keep up with the mass production demands.
This segment of Advancements will teach audiences how Quality Resolution Systems is helping automakers build competence, reduce redundancies, streamline processes, and increase productivity in an effort to eliminate organizational inefficiencies.
"QRS is amazing, because they aim to streamline processes and help close gaps to create better environments. Their business model attacks from all angles especially those focused on community involvement and workplace synergy!" said Ken Hall CEO, K. Hall Enterprises, LLC.
Viewers will see how Quality Resolution Systems helps businesses implement practical techniques to encourage a more productive work environment, enhances the employee experience, enriches the product development evolution, and boosts organizational value.
"Quality Resolution Systems simplifies the process by bridging functional gaps between corporate and support operations," said DJ Metzer, senior producer for the Advancements series. "We look forward to educating our viewers about the amazing work they're doing."
About Quality Resolution Systems:
Quality Resolution Systems helps executives throughout the automotive industry eliminate organizational inefficiencies, so they can build more highly competent teams, remove systemic redundancies, reduce product recalls, and streamline their product development process to increase company profitability, and daily productivity.
For more information, visit: http://www.qualityresolutionsyst.com.
About Advancements and DMG Productions:
The Advancements series is an information-based educational show targeting recent advances across a number of industries and economies. Featuring state-of-the-art solutions and important issues facing today's consumers and business professionals, Advancements focuses on cutting-edge developments, and brings this information to the public with the vision to enlighten about how technology and innovation continue to transform our world.
Backed by experts in various fields, DMG Productions is dedicated to education and advancement, and to consistently producing commercial-free, educational programming on which both viewers and networks depend.
For more info, please visit: AdvancementsTV.com or call DJ Metzer at 866-496-4065.