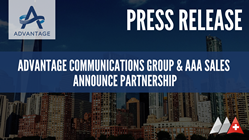 Our recent expansion into the European market has accelerated interest in Advantage services and we look to continue that growth through this partnership
PORT WASHINGTON, N.Y. and BAAR, Switzerland (PRWEB) December 03, 2020
Advantage Communications Group, LLC ("Advantage"), a leading technology sourcing advisor for business customers worldwide, today announced a strategic partnership with AAA Sales & Management GmbH ("AAA"), a European consulting company with a focus on international telecom and data center solutions. The agreement brings benefits to both client bases through expanded software and managed service offerings, most notably localized expertise for complex global telecom networks.
"Our recent expansion into the European market has accelerated interest in Advantage services and we look to continue that growth through this partnership," said David Gartner, Chief Executive Officer of Advantage. "AAA brings a wealth of localized knowledge to the Advantage team and we're excited to pass that value on to clients who need assistance in sourcing and managing global telecom networks."
Based in Baar, Switzerland, AAA provides consulting services to more than 400 clients around the globe to optimize site networking, data center needs, and cloud services. Through the Advantage partnership and their carrier neutral approach to solution design, sourcing, and ongoing management, AAA can simplify client engagements and provide more holistic networking solutions at a lower cost.
"We are excited to partner with Advantage and extend the level of service and expertise we can provide to our clients," said Wilhelm Pfeifer, Chairman of AAA. "Advantage carries a great reputation in the industry and we look forward to helping them expand their visibility into the European market."
About Advantage CG.
Advantage takes a proactive approach to solving our customers' technological challenges. Leveraging relationships with over 200 of the world's strongest telecommunications, cloud and managed service providers, we develop, implement and manage innovative solutions at competitive prices. Our experienced customer service team supports all of the services we recommend so that customers can focus their time and energy on running their core business. Our services also include proprietary management software that provides customers with customizable visibility and reporting of all of their telecommunications, cloud and mobility data. Because of this, companies that rely on their critical IT infrastructure also rely on Advantage to reduce costs and improve efficiency. To learn more about how the Benefits can help your business, please visit http://www.advantagecg.com.
About AAA:
AAA Sales & Management GmbH is a consulting company with a focus on international telecom and data center solutions. The company advises European medium-sized companies and international corporations on complex telecom requirements with regard to site networking, data center solutions and cloud connections. The company is based in Baar, Switzerland and has been recognized for its services by various telecommunications companies for more than 10 years. More information can be found at http://www.aaa-sales.ch.