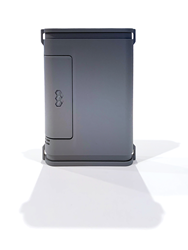 It's an exciting time to be a part of this industry, and Advantage is so pleased to be able to introduce Revo 2.0 to a marketplace eager for next-generation solutions.
IRVINE, Calif. (PRWEB) November 17, 2021
Advantage GPS, a leader in modern data analytics and advanced, risk-mitigation solutions for vehicle finance professionals, today announced the launch of Revo 2.0 — a family of advanced, self-powered wireless GPS tracking devices with cutting-edge, second-generation smart battery technology and power management tools.
First to market with a line of wireless, battery-powered GPS devices in early 2019, Advantage has amassed and aggregated data from tens of thousands of deployments and hundreds of millions of device interactions. This data analysis combined with real-world client experiences and suggestions has resulted in continuous improvements in hardware and software technology.
"Years of painstaking real-world analysis, laboratory and field testing, and tireless work by a team of dedicated engineers has led us to this unparalleled 2nd generation technology — Revo 2.0," said David Meyer, Advantage president.
Because it was first to market, Advantage experienced both the benefits and challenges the technology encountered in the field, and the GPS marketplace. Anyone who has ever upgraded their cell phone only to experience battery life issues understands that software and battery technology is constantly evolving.
"We are given the privilege to protect hundreds of millions of dollars of our clients' valuable vehicle collateral," Meyer said. "Performance and reliability are key performance indicators for our clients."
As a result of being a first mover in wireless GPS tracking, the team has had the advantage of experiencing and addressing the challenges battery-powered devices pose as both a finance risk-mitigation tool and a technological hurdle. Battery life management has been a primary focus. Vehicle location, device health, and data collection require data acquisition, and that requires access to a finite amount of energy stored in a battery.
"The key is using smart hardware and software technology and the intricate analysis of the data they provide to manage and minimize wasted energy usage," said Brian Tate, Advantage's product manager. "Innovations in battery technology bolstered our efforts, resulting in Revo 2.0."
Battery life capacity is constantly evolving and so are the methodologies for collecting and analyzing the data they provide. Advantage engineers began to employ Artificial Intelligence (AI) to understand what data gathering events require the most energy.
"Massive amounts of data analyzed by AI has helped us to not only be able to inform our clients in near real-time of anomalies," Tate said, "but also helped our application learn from those past events to make predictions about potential future outcomes."
Because the stakes are so high for Advantage clients, reliability is the key performance indicator they have when choosing a GPS provider. Device failure can mean thousands of dollars of losses and be the difference between a quarterly profit or loss.
Advantage engineers developed enhanced Power Management technology and added smart power management tools to provide the client with better communication with and control over the device. The technology allows for the platform to monitor GPS device health and report potential problems before they occur. In addition, Revo 2.0 now employs Turbo Track technology – robust location intelligence finance professionals can us to gather vehicle recovery intelligence, thereby mitigating losses.
"It's an exciting time to be a part of this industry, and Advantage is so pleased to be able to introduce Revo 2.0 to a marketplace eager for next-generation solutions," Meyer said.
About Advantage GPS
Advantage GPS provides modern data analytics and advanced GPS technology that empower BHPH dealers and vehicle finance companies to make smarter, faster, and more profitable business decisions. The company's seasoned leadership team has been revolutionizing risk mitigation tools and real-time automotive analytics to help lenders protect vehicle assets, reduce delinquencies, and speed up recoveries for over a decade.
For more information visit AdvantageGPS.com