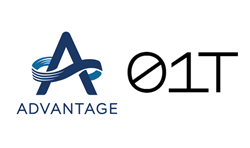 PORT WASHINGTON, N.Y. (PRWEB) May 28, 2020
Advantage Communications Group, LLC ("Advantage"), a leading technology sourcing advisor for business customers worldwide, today announced that it has entered into a new partnership agreement with 01T, a specialized network provider headquartered in the United Kingdom. This agreement, which marks the first U.S. partnership for 01T, gives Advantage's global base of partners and clients access to their portfolio of high bandwidth fiber-based network solutions.
01T has a design-led approach to connectivity. With PoP's located around the world, the 01T network design team individually tailors each solution to address specific customer requirements. Their specialists provide ongoing project management and support, and customers have access to 01T's 21st century tools to be in control. Uniquely, 01T offers all customer networks a single global SLA for all services, in all countries.
"01T's specialized operating model and global standard SLA are huge differentiators the industry," stated Jesse Bernstein-Ansaldi, Director of International Sales for Advantage. "Their design-led approach and relentless focus on customer experience make them an ideal fit to help our clients and partners with layer 2 requirements around the world."
"At 01T we take time to understand customer requirements before designing a solution, which directly aligns with Advantage's business model," added Simon Stokes, Commercial Director at 01T. "We're excited to work with Jesse and the Advantage team to provide unique connectivity solutions to support the expansion and diversity requirements of their global customers."
Advantage now has established relationships with over 60 international service providers spanning six continents.
ABOUT ADVANTAGE COMMUNICATIONS GROUP, LLC:
Advantage takes a proactive approach to solving our client's technology challenges. Leveraging relationships with over 200 of the world's strongest telecom, cloud and managed service providers, we architect, implement and manage innovative solutions at the most competitive rates. Our experienced customer service team supports all the services we recommend, so clients can focus their time and energy on running their core business. Our services also include proprietary management software, which offers clients customizable visibility and reporting of all their telecom, cloud and mobility data. That's why businesses that rely on their critical IT infrastructure also rely on Advantage to help them reduce costs and improve efficiencies. To learn more about how Advantage can help your business, please visit http://www.advantagecg.com.
ABOUT 01T
01T is a specialist network provider. Founded because of a frustration at the way things are done now and powered by a belief that they can be done better. Across the globe, businesses seek intelligent ways to get data from one place to another. 01T focuses on this challenge.
As specialists, 01T provides tailored solutions for organizations dependent on secure, high bandwidth and low latency networks. 01T works with a consultative approach. Clients receive tailored network solutions designed to their exacting needs and are consulted at every stage. Services are fully managed and maintained by a team of dedicated specialists, right from the very first phone call.
This approach results in superior networks. Faster, more reliable, and more diverse. They do it safely and securely. And they do it differently for every customer.