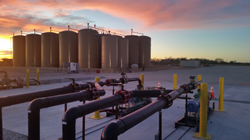 "I am proud of the impact my work has had on the US and the world's ability to safely and economically utilize our natural resources to improve resource efficiency and the global standard of living."
HOUSTON (PRWEB) October 08, 2019
The American Institute of Mining Engineers (AIME) and the Society of Petroleum Engineers (SPE) have recognized the career and contributions of Dr. Ahmed Saied Abou-Sayed with one of their highest awards, the Robert Earll McConnell Award. The award recognizes "beneficial service to mankind by engineers through significant contributions that advance a nation's standard of living or replenish its natural resource base". Dr. Abou-Sayed received the award at the SPE's 2019 Annual Technical Conference and Exhibition in Calgary, Canada.
Groundbreaking achievements of Dr. Abou-Sayed and his colleagues include creating and promulgating technologies which facilitated the development of oil and gas and other natural resources and reduced the environmental impacts from doing so.
During his nearly 50-year career, Dr. Abou-Sayed published more than 100 technical papers and articles, made numerous inventions, and founded four companies, including Advantek International Corporation LLC (AWMS), and Informateks International Incorporated. These publications include the first numerical simulator of hydraulic fracture propagation in three dimensions, conducting the industry's first frac pack completion technique, piloting hydraulic fracturing stimulation in the Alaskan north slope, and utilizing hydraulic fracturing to enable the disposal of contaminated solids in remote and environmentally sensitive environments. Perhaps most importantly, Dr. Abou-Sayed and his team conducted what is likely the first multiple-stage hydraulic fracturing stimulation treatment on a horizontal well, in the W. M. Schrock "26" Well #8 on July 7, 1987. The treatment included 7 stages/clusters pumped in the horizontal test well operated by ARCO.
The companies Dr. Abou-Sayed founded are continuing his legacy of impact and scientific advancement. Advantek International, itself celebrating the 20th anniversary of its founding, has long established itself as a leader in reservoir geomechanics. Informateks International trailblazed the use of advanced analytical techniques on large data sets in the oil and gas industry beginning nearly 15 years ago. AWMS, launched 5 years ago in partnership with TPG, one of the world largest private equity funds, was established to utilize Dr. Abou-Sayed's and his peers' innovations in the area of waste management, sometimes called slurry injection or cuttings injection, by creating a full-service disposal company.
AWMS has since acquired GeoEnvironment Technologies LLC, extending its applications of slurry injection to the problem of treated sewage sludge generated by municipal wastewater treatment plants. GeoEnvironment operates the Los Angeles biosolids injection project at Terminal Island (TIRE). The TIRE project is the only of its kind in the world, and injects non-hazardous biosolids into depleted deep subsurface formations, sequestering significant amounts of greenhouse gases and enabling the generation of renewable methane.
"I am so very honored and proud to receive this recognition from my peers at the SPE and AIME," commented Dr. Abou-Sayed. "I am also proud of the impact my work has had on the US and the world's ability to safely and economically utilize our natural resources to improve resource efficiency and the global standard of living. I am indebted to my teachers, mentors, and colleagues for their contributions to my career and the life it has afforded me and my family," he added.
"This award punctuates my father's nearly 50-year career, cementing his legacy of innovation and pioneering advancements in hydraulic fracturing, reservoir geomechanics, data analytics, and waste management. Coming in the year where we also celebrate the 20th anniversary of Advantek, the 15th anniversary of Informateks, and the 5th anniversary of AWMS, the timing of this honor couldn't be more fitting" says Omar Abou-Sayed, Dr. Abou-Sayed's son and CEO of the companies. "The bedrock values of environmental stewardship, giving back to our community, and scientific and technical excellence he established are the foundation upon which we base everything we do."
About Advantek: Advantek International Corporation is a leading expert in hydraulic fracturing, well integrity and performance. It is a globally recognized as an oil and gas consulting firm.
About Advantek Waste Management Services LLC: Advantek Waste Management Services is a full-service waste management company providing recycling, treatment, and disposal of oilfield wastes including muds, drill cuttings, produced water, and flowback water, tank bottoms and others. It's subsidiary, GeoEnvironment Technologies LLC, applies slurry injection for the management of municipal biosolids sludge and greenhouse gas sequestration.
About Informateks International Incorporated: Informateks is a data analytics company which trailblazed the use of advanced data mining techniques in the oil and gas industry