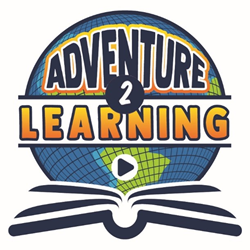 "At the National Center for Missing & Exploited Children, we believe prevention is key," said Callahan Walsh, child advocate for NCMEC. "We're grateful for Adventure 2 Learning for supporting our efforts to reach children in all communities nationwide."
BROOKVILLE, N.Y. (PRWEB) February 27, 2020
Today is Digital Learning Day, and Adventure 2 Learning, a leading video-based educational technology platform, and the National Center for Missing & Exploited Children (NCMEC) announced a partnership to help educators and parents teach children, in grades K-5, how to stay safer by expanding the reach of NCMEC's safety programs.
NCMEC's NetSmartz® and KidSmartz® programs will now be included in the resources on Adventure 2 Learning's website. They provide age-appropriate content for children and resources for teachers and parents. NetSmartz focuses on protecting children on the internet, and KidSmartz helps prevent abductions and other dangers. The programs avoid fear-based language and empower kids to practice safer behaviors.
The programs are designed by NCMEC based on what they see as a clearinghouse for issues related to missing and exploited children. Last year, NCMEC's CyberTipline received 16.9 million reports of suspected child sexual exploitation. They also assisted law enforcement and families with more than 29,000 cases of missing children.
"At the National Center for Missing & Exploited Children, we believe prevention is key," said Callahan Walsh, child advocate for NCMEC. "We want to help empower children to make safe and smart decisions by having our child safety resources in as many places as possible. We're grateful for Adventure 2 Learning for supporting our efforts to reach children in all communities nationwide."
Adventure 2 Learning's platform, which has grown primarily by word of mouth, is currently in over 25,000 schools, reaching 10 million students. The platform provides over 7,000 streaming videos and supplemental materials, helping to fill the void in classrooms created by funding shortages, outdated resources, high student-to-teacher ratios, and the wide disparity in learning levels. Programs include social-emotional learning, fitness, academics and Digital Life, which educates students on how to protect themselves in the virtual world.
NCMEC's videos and materials will complement Adventure 2 Learning's resources. KidSmartz videos focus on four key rules for personal safety - Check First, Take a Friend, Tell People No, and Tell a Trusted Adult. They use animated characters to model the best ways for young children to respond to potentially dangerous situations.
The NetSmartz program tackles internet safety through an animated web series called "Into the Cloud" that launched in 2019. The series sends the classic NetSmartz characters on a new adventure where they will get to meet new friends and teach them everything they've learned about staying safe online.
"NCMEC's videos and resources are a critical addition to the Adventure 2 Learning platform," said Michael Rhattigan, CEO of Adventure 2 Learning. "As a father of two young boys myself, I cannot think of anything more important than making sure children understand how to stay safe, whether they are on the internet or walking home from school."
For more information on Adventure 2 Learning and NCMEC,
visit https://www.adventure2learning.com/ and https://www.missingkids.org/.
About the National Center for Missing & Exploited Children
Since 1984, the National Center for Missing & Exploited Children® has served as the leading private, nonprofit organization helping find missing children, reduce child sexual exploitation and prevent future victimization. As part of its work as the clearinghouse and resource center on issues relating to missing and exploited children, NCMEC operates a hot-line, 1-800-THE-LOST® (1-800-843-5678), and has assisted in the recovery of more than 311,000 missing children. NCMEC also operates the CyberTipline®, a mechanism for reporting suspected child sexual exploitation, which has received more than 60 million reports. To learn more about NCMEC, visit http://www.missingkids.org.
About Adventure 2 Learning
Adventure 2 Learning believes that every meaningful learning experience is an adventure. The educational platform offers a rich selection of video-centered resources, specially created and curated to support active learning in pre-kindergarten through 8th grade. Adventure 2 Learning's programs are used in over 25,000 schools, providing educational experiences that are engaging, impactful, and fun. For more information, visit https://www.adventure2learning.com/.
Twitter: @adventure2learn (https://twitter.com/adventure2learn)
Facebook: @Adventure2Learning (https://www.facebook.com/Adventure2Learning)
LinkedIn: Adventure 2 Learning (https://www.linkedin.com/company/adventure-2-learning)
Instagram: adventure2learning https://www.instagram.com/adventure2learning/)