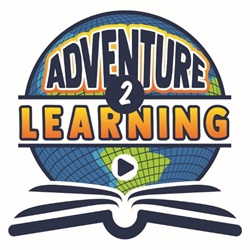 Adventure 2 Learning has grown primarily by word-of-mouth and is currently used in over 25,000 schools across the country
BROOKVILLE, N.Y. (PRWEB) January 09, 2020
New Platform Provides Teachers with More Interactive Content to Further Entertain, Engage and Educate Students
Adventure 2 Learning, a leading video-based learning platform, today announced the launch of its second generation educational technology platform. This new platform provides teachers with a better user experience in addition to more on-demand, interactive videos and more supplemental resources to enhance the way students learn, from Pre-K to 8th grade. Videos focus on core curricula, social and emotional topics and mindfulness, and were developed or curated in response to educators' requests.
Over the past few months, Adventure 2 Learning has expanded its program portfolio with Digital Life lessons, in partnership with Circle Media, ranging from how to protect user names and passwords to respecting others online to prevent cyberbullying. With more than 7,000 streaming videos and supplemental materials for teachers, Adventure 2 Learning is helping to fill the void in classrooms created by funding shortages, outdated resources, high student to teacher ratio, and the wide disparity in learning levels.
New algorithms in the second generation platform suggest videos based upon teachers' needs, making recommendations to videos they might like and keeping them updated on what's trending for the grade level and subjects they choose. All Adventure 2 Learning content is vetted by a community of educational advisors and experts.
"We are proud that Adventure 2 Learning has grown primarily by word-of-mouth and is currently used in over 25,000 schools across the country, reaching 10 million students," said Michael Rhattigan, CEO of Adventure 2 Learning. "We develop and curate programs by first listening to educators to understand what they need. For example, we go beyond academic lessons by offering mindfulness programs that help students focus on learning."
In 2010, Rhattigan launched Adventure to Fitness, which focused on exercise and other on-demand health videos, since childhood obesity is a significant issue, and some schools have cut back or no longer teach physical education. Adventure to Fitness took students on story-based adventures around the world, simultaneously teaching them and providing exercise. The program proved to be fun for students and extremely popular with educators, leading to requests to expand across other educational topics. Rhattigan brought on Rob Bencal in 2018 to help expand the programs and launch Adventure 2 Learning.
"Adventure 2 Learning enables educators to easily personalize dashboards and customize content for their classrooms," stated Rob Bencal, president of Adventure 2 Learning. "Since students are growing up in a video-based world, these interactive videos resonate well with students and are an ideal complement to teachers' lessons."
For more information on Adventure 2 Learning, visit https://www.adventure2learning.com/.
About Adventure 2 Learning
Adventure 2 Learning believes that every meaningful learning experience is an adventure. The educational platform offers a rich selection of video-centered resources, specially created and curated to support active learning in pre-kindergarten through 8th grade. Adventure 2 Learning's programs are used in over 25,000 schools, providing educational experiences that are engaging, impactful, and fun. For more information, visit https://www.adventure2learning.com/.
Twitter: @adventure2learn (https://twitter.com/adventure2learn)
Facebook: @Adventure2Learning (https://www.facebook.com/Adventure2Learning)
LinkedIn: Adventure 2 Learning (https://www.linkedin.com/company/adventure-2-learning)
Instagram: adventure2learning https://www.instagram.com/adventure2learning/)