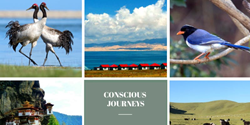 Enjoy some rare pictures of Tibetan birds on CJ's Facebook page!
LHASA, Tibet (PRWEB) November 27, 2018
Conscious Journeys presents an adventure filled 14-day trip to Eastern Tibet from June 15 to June 29, 2019. This Tibet: Nature, Birds, and Culture trip is led by Brad Andres, an ornithologist, who led the trip last year as well. People who are adventurous, love nature and engaging in local culture, and enjoy picturesque scenes would have the time of their life on this journey. You will get to view rare birds on the Tibetan Plateau, learn about the culture -- including visiting nomad camps, and visit a place where very few foreigners have visited.
The CEO of Conscious Journeys claim that Tibet: Nature, Birds, and Culture Journey is one fo the best journeys they have to offer. The journey will start in Chengdu where you'll visit the botanical garden and see adorable pandas! The rest of the journey is filled with visits to Bon monastery, Kirti monastery, Taktsang Lhamo (Tiger den), and viewing grassland birds, water birds, and morning birds in Baiyu. If you are interested, you can also witness the Tibetan traditional way of bidding farewell to loved ones—the Sky Burial tradition. The sky burial tradition is graphic and might be disturbing to some people. If you feel uncomfortable, you can choose to skip the event. 
Book yourself a ticket to join us on this journey to enjoy 5% early-bird discount here!
Conscious Journeys is a social enterprise company of Tibetan Village Project that provides authentic travel experiences to Tibet and creates employment in the local communities. CJ allows you to see, touch, taste, and experience life in Tibet. Whether you are on a private tour, in a small group, or in a service trip, our family will welcome you in our hearts, homes, and communities.