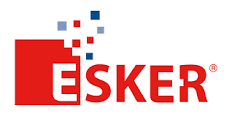 With the convenience of Esker Anywhere™, managing AP is a lot easier
MIDDLETON, Wis. (PRWEB) October 01, 2018
Esker, a worldwide leader in document process automation and pioneer in cloud computing, today announced it is working with ADVEO, European leader in office equipment, school materials and stationery supplies, to automate its accounts payable (AP) process and centralize supplier invoices at its shared services center (SSC) in Madrid. With Esker's Accounts Payable automation solution, ADVEO has optimized its administrative and cash management processes thanks to increased visibility over invoice status (in both Esker's portal and its ERP software system).
Following the success of its initial partnership with Esker in 2014 to automate the sending of customer invoices by postal mail, the company decided to extend Esker's Accounts Payable solution to its SSC ADVEO Global Services (AGS), as well as to six of its subsidiaries (Italy, Portugal, Germany, France, Benelux and Spain). AGS manages transversal business functions such as IT, finance, administration and HR and has led the digital transformation project for the company.
AGS processes nearly 10,000 non-purchase order invoices annually, and 240,000 purchase order invoices from ADVEO subsidiaries. Invoices arrive via multiple channels and most are matched with purchase orders, then the approval workflow is determined based on supplier type and invoice amount. Since implementing Esker, ADVEO has been able to process invoices from different countries in compliance with local legislation. In addition, ADVEO managers are able to approve invoices anytime, anywhere, while keeping an eye on key metrics with Esker Anywhere™, Esker's mobile application.
"We selected Esker's cloud-based solution for numerous reasons, including quick implementation, seamless ERP integration, and legal and fiscal compliance when processing and archiving invoices in the countries where we have a presence," said Antonio Ríos Dos Santos, head of processes and shared services at ADVEO. "Together with the convenience of Esker Anywhere™, managing AP is a lot easier and we have significantly reduced processing times, all the while guaranteeing 100-percent process traceability."
Benefits of AP automation
Since implementing Esker's solution, ADVEO has achieved numerous benefits, including:

Improved flexibility thanks to Esker's ability to adapt to the specific needs of a multi-criteria, multi-level and multi-national validation process
Faster and more efficient invoice processing, invoice handling at AGS and a multi-level approval workflow
Increased visibility via real-time metrics and KPIs to help monitor process efficiency (e.g., coding times, approval, identification of bottlenecks, etc.)
Local language service support for ADVEO's international subsidiaries
About ADVEO
ADVEO is the leading company in Europe specialized in the wholesale distribution of material and comprehensive solutions for different working and teaching environments. With a team of over 1,200 professionals and 17,000 customer-distributors across Europe, ADVEO offers the best range of products and services through the widest range of brands. ADVEO, based in Madrid, Spain, has a modern international logistics network that serves the entire commercial network in nine countries: Spain, France, Germany, Austria, Italy, Belgium, Holland, Luxembourg and Portugal.
About Esker
Esker is a worldwide leader in cloud-based document process automation software, helping financial and customer service departments digitally transform their order-to-cash (O2C) and purchase-to-pay (P2P) cycles. Used by more than 6,000 companies worldwide, Esker's solutions incorporate technologies like artificial intelligence (AI) to drive increased productivity, enhanced visibility, reduced fraud risk, and improved collaboration with customers, suppliers and internally. Esker operates in North America, Latin America, Europe and Asia Pacific with global headquarters in Lyon, France, and U.S. headquarters in Madison, Wisconsin. For more information on Esker and its solutions, visit http://www.esker.com. Follow Esker on Twitter @EskerInc and join the conversation on the Esker blog at blog.esker.com.