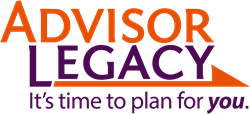 We provide the objective, third-party perspective and knowledge needed to ensure a successful transaction
TROY, Mich. (PRWEB) September 09, 2019
Advisor Legacy announced it is launching in order to provide advisors with a comprehensive suite of M&A services that bridge the gap between those offered by practice listing marketplaces and those resources provided by broker-dealers and custodians. Advisor Legacy is unique in that it works collaboratively with existing service providers and succession departments to meet the needs of a wide range of financial advisors, regardless of their affiliation or size.
Advisor Legacy is comprised of industry experts with knowledge in growing practice value, developing valuations, and managing mergers and acquisitions. Their team of experts have facilitated hundreds of successful transactions and are able to represent either buyer or seller with everything they need to facilitate the entire transaction from start to finish. Services include:

Business Valuations
Deal Support
Seller Advocacy
Continuity Planning
"Advisor Legacy is different from our competitors because we provide a very high-touch experience and because we seek to build a collaborative relationship with succession departments and other service providers," says Advisor Legacy CEO, Anthony Whitbeck, CFP, CLU. "We provide the objective, third-party perspective and knowledge needed to ensure a successful transaction and build a strong relationship with our clients through the process." Advisor Legacy works with a number of Broker Dealers and RIAs and have the knowledge and experience necessary to keep deals compliant with BD or custodian rules, while maximizing value and facilitating a smooth transition for all stakeholders. Additionally, Advisor Legacy has a network of vetted specialists and service providers with a track record of success that they can leverage to help with every aspect of the transaction. "We are very client centered," says Whitbeck. "We are always looking for ways to provide them with the education and resources they need to support their decision making at all stages of the process."
To learn more about Advisor Legacy go to http://www.advisorlegacy.com. For interviews, contact Anthony Whitbeck, CEO, CFP, CLU for Advisor Legacy at 248-785-3603 or by email at awhitbeck(at)advisorlegacy.com.
Advisor Legacy is a comprehensive M&A firm, helping financial advisors grow, protect and transition their practice. With our personalized, consultative approach and over 150 years of combined experience in the financial services industry, our team of experts have successfully handled hundreds of transactions. Most of all, we understand that your practice is more than a business, it is your legacy. To learn more, go to http://www.advisorlegacy.com.