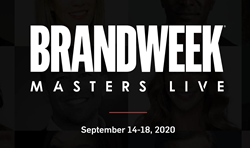 Google partnered with Adweek to add the fifth day, which will feature top marketing leaders providing the community with career development guidance and tips for successfully navigating challenging times
NEW YORK (PRWEB) September 03, 2020
Today Adweek announced the addition of a fifth day to Brandweek®, its tentpole live virtual summit for brand marketing leaders. The program for Friday, Sept. 18, will focus on talent and is designed specifically for marketers who are unemployed or furloughed in the wake of the Covid-19 crisis. Google, a founding partner in the Adweek Executive Mentor Program, partnered with Adweek to add the fifth day, which will feature top marketing leaders providing the community with career development guidance and tips for successfully navigating challenging times. Employees in transition can apply for free tickets for all five days of Brandweek.
"Day 5: The Talent" will feature a mix of Main Stage presentations led by the biggest names in brand marketing on the following topics:

Inclusive Leadership Through Turbulence: Antonio Lucio, Global CMO of Facebook
The Inside Scoop on Landing the Right Job: Greg Welch, Senior Partner & Practice Leader, Spencer Stuart
Showing Up: Musa Tariq, former Global Head of Marketing, Airbnb Experiences
Your Career Playbook: Jabari Hearn, VP of Brand, Lyft and Julian Duncan, CMO/SVP of Social Responsibility & Impact, Jacksonville Jaguars
Dream Big: Taj Alavi, former Global Head of Brand, Uber
The Shifting Creative Landscape: Walter Geer, Executive Creative Director of Experience Design, VMLY&R and others to be announced
Power of Connection: Adweek Executive Mentees
"This has been an especially challenging year for the marketing and advertising industries," said Adweek Chief Community Officer Nadine Dietz. "We are extremely grateful to our community for banding together to help each other through these times. The career-building skills and insights we'll be discussing on Day 5 have always been important, but never have they been more relevant."
"We understand that many amazing and talented marketers have been impacted by COVID-19 and are currently unemployed or furloughed," said Adweek CEO Jeffrey Litvack. "Thanks to our partnership with Google and our unmatched community of conscientious brand marketing leaders from across the industry, we are proud to offer a day dedicated to helping unemployed marketers hone their skills and prepare for the next stage of their careers."
Now in its third year, Brandweek takes place Sept. 14-18 and will feature notable speakers such as actor, producer and entrepreneur Ryan Reynolds and Global CMO of Facebook Antonio Lucio. New elements to Brandweek include intimate Masterclasses from top marketing experts, A Taste of Brandweek social sampling events and Brandweek Lift, a program where minority-owned businesses can attend Brandweek free of charge and connect with senior business leaders.
Unemployed and furloughed marketers can apply for passes here: https://events.adweek.com/brandweek-development-2020
To see the full list of speakers, Masterclasses and activities at Brandweek, go to https://events.adweek.com/brandweek-2020
About Adweek
Adweek is the leading source of news and insight serving the brand marketing ecosystem. First published in 1979, Adweek's award-winning coverage reaches an engaged audience of more than 6 million professionals across platforms including print, digital, events, podcasts, newsletters, social media and mobile apps. As a touchstone of the advertising and marketing community, Adweek is an unparalleled resource for leaders across multiple industries who rely on its content to help them do their job better.