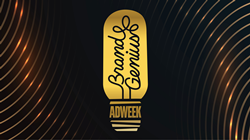 Adweek's Brand Genius Awards recognize the principal leaders behind the boldest and most imaginative marketing efforts across 10 key business categories.
NEW YORK (PRWEB) August 31, 2020
Adweek, the leading resource for brand marketers, today announced the recipients of its 31st annual Brand Genius Awards, the marketing and branding world's consummate honor. Brand Visionary Ryan Reynolds and Brand Save winner Equal Justice Initiative will be celebrated, along with their fellow honorees, at the virtual Brandweek summit, Sept. 14–18.
Brandweek has been fully reimagined for a virtual world with main stage presentations, invite-only Masterclasses, breakout social activities and opportunities for one-on-one networking. Many of the Brand Genius honorees will be leading these presentations and Masterclasses, and all will be celebrated during the course of the weeklong event. Founder Bryan Stevenson will be accepting the Brand Save Award on behalf of Equal Justice Initiative.
"We're thrilled to celebrate the 2020 class of Brand Genius honorees," said Adweek CEO Jeffrey Litvack. "By continuing to push the envelope and find new ways to tell their brands' stories, these mavericks have inspired everyone in the industry."
Adweek's Brand Genius Awards recognize the principal leaders behind the boldest and most imaginative marketing efforts across 10 key business categories. While the achievements of each recipient vary, all honorees have demonstrated a willingness to break with convention.
This year's award recipients will be profiled in Adweek's Brand Genius issue (Sept. 14) and on Adweek.com.
"In a challenging year, we've seen these honorees beat incredible odds to produce memorable work that has shaped our culture and society at large," said Lisa Granatstein, Adweek's editor, svp, programming. "We are humbled by their dedication."
The 2020 Brand Genius Award winners, as chosen by Adweek's senior editors and industry experts, are:

Marc Pritchard, Chief Brand Officer, Procter & Gamble
Kory Marchisotto, CMO, e.l.f. Beauty
Janey Whiteside, EVP, & Chief Customer Officer, Walmart
Sadira Furlow, VP, Marketing, Lay's, Fritos, Ruffles and Funyuns, Frito-Lay/PepsiCo
Joe Earley, EVP, Marketing and Operations, Disney+
Dirk-Jan van Hameren, CMO, NIKE, Inc.
Andrea Brimmer, Chief Marketing and PR Officer, Ally
Diego Scotti, EVP, CMO, Verizon
Kofi Amoo-Gottfried, VP, Marketing, DoorDash
Tor Myhren, VP, Marketing Communications, Apple
2020 Brand Visionary: Ryan Reynolds – actor, producer, entrepreneur
There was no escaping the multihyphenated Ryan Reynolds this year. As an owner of Aviation Gin, Reynolds has led the creative direction with a flair for hijacking the zeitgeist. From his "contextual advertising" triple play that brilliantly put an Aviation Gin ad within the Netflix movie trailer for 6 Underground within a Samsung ad, to short-circuiting "Peloton Wife," to giving away three free months of Mint Mobile to new customers rather than pay for a Super Bowl ad, to the sale of Aviation Gin to Diageo for a whopping $600 million, it's clear the actor, producer and entrepreneur is a true Brand Visionary.
2020 Brand Save: Equal Justice Initiative – a nonprofit organization dedicated to ending mass incarceration, excessive punishment and racial inequality
Equal Justice Initiative, based in Montgomery, Ala., advocates for equal treatment in the criminal justice system, particularly for marginalized communities. Founded in 1989 by Bryan Stevenson, a widely acclaimed public interest lawyer and bestselling author of Just Mercy, Adweek is proud to honor EJI for its ongoing efforts to end mass incarceration, as well as its lasting commitment to achieving racial and economic justice.
To attend Brandweek, go to events.adweek.com/brandweek-2020
For all press inquiries, contact pr@adweek.com.
About Adweek LLC
Adweek is the leading source of news and insights serving the brand marketing ecosystem. First published in 1979, Adweek's award-winning coverage reaches an engaged audience of more than 6 million professionals across platforms including print, digital, events, podcasts, newsletters, social media and mobile apps. As a touchstone of the advertising and marketing community, Adweek is an unparalleled resource for leaders across multiple industries who rely on its content to help them do their jobs better.