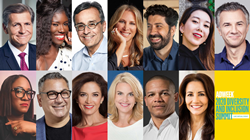 From combatting micro-aggressions to uplifting diverse talent, speakers will discuss lessons, advice and key steps they're taking to power more inclusive practices.
NEW YORK (PRWEB) May 26, 2020
Adweek announced today the final lineup for the Adweek Diversity and Inclusion Summit, a live virtual event on Wednesday, May 27, where executives from across leading brands and agencies will exchange ideas and experiences relating to the goal of advancing diversity and inclusion in the marketing ecosystem. From combatting micro-aggressions to uplifting diverse talent, these speakers will discuss lessons, advice and key steps they're taking to power more inclusive practices.
Speakers for the event include Marc Pritchard (Chief Brand Officer, Procter & Gamble), Antonio Lucio (Global CMO, Facebook), Bozoma Saint John (CMO, Endeavor), Stephanie Buscemi (Chief Marketing Officer, Salesforce), Marcel Marcondes (US CMO, Anheuser-Busch), Diego Scotti, (CMO, Verizon), Tariq Hassan (CMO, Petco), Cynthia Chen (General Manager and President, Consumer Health and Wellness, Reckitt Benckiser), Claudia Edelman (Founder, We Are All Human), Sarah Kate Ellis (President, GLAAD), Tiffany R. Warren (Senior VP, Chief Diversity Officer, Omnicom Media Group and Founder and President, ADCOLOR), Jason White (CMO, Curaleaf) and Shelley Zalis (CEO, The Female Quotient).
The speakers will take turns interviewing each other in a "fireside chat" format, with all of them remaining throughout the two-and-a-half-hour program for a question and answer session at the end.
Many of these speakers are also founding members of the Adweek Diversity and Inclusion Council, established in September 2019 and comprised of the marketing industry's leading CMOs, CBOs, CEO, brand presidents, and chief diversity and inclusion officers at the helm of some of the world's most renowned brands. Adweek works in partnership with the council and other industry organizations to develop more opportunities to advance diversity and inclusion at all levels in all organizations.
The council focuses on awareness, collaboration and impact at scale, and oversees such initiatives as the Adweek Executive Mentor Program, now in its second year, as well as working across the industry to collaborate on creating or surfacing meaningful diversity and inclusion measures for marketers to lead change in their organizations.
"Throughout history - during pandemics, wars, disasters, and times of crisis - equality and inclusion takes a step back," said Marc Pritchard, P&G Chief Brand Officer. "The people who are the most vulnerable, marginalized and discriminated against tend to suffer disproportionately. Now is not the time to step back. It's time to step forward and double down on equality and inclusion."
"Speaking out is one of the most powerful things we can do," said Claudia Edelman, founder of We Are All Human, "especially if we use our voice to convene others to a common and just cause. We know that people around the world are not being heard, and in the broadest sense, I have made it my life's purpose to listen to their voices and bring their messages to those who can help make a difference."
"It is critically important that we work on two areas simultaneously," said Facebook CMO Antonio Lucio. "First is representation because without representation, the conversation about inclusion becomes meaningless. And second is inclusion so that the people who are coming into our workforce are heard and can have the impact that we all want them to have in our business."
Adweek has been at the forefront of covering and advocating for diversity and inclusion for years and has expanded its coverage greatly over the past year. The publication hired its first reporter dedicated to the D&I beat, Mary Emily O'Hara, and recently launched the podcast D&I TBD: The Conversation Continues. The "TBD" in the title of the podcast indicates that the goal of D&I is "an unfinished conversation, with opportunities for the industry to determine its future."
"D&I isn't a project you can assign to someone and expect it to get done," said Adweek CEO Jeff Litvack. "It's a commitment that we all have to make, a challenge to continuously make our companies better. Adweek's strength is in fostering conversations among the brand marketing community, and we're proud to do our part in facilitating such an important ongoing conversation."
"Especially in today's environment," agrees CCO Nadine Dietz, "it's incumbent on us all to continue advancing not only the conversation but also the actions fueling more diverse and inclusive workplaces."
The Adweek Diversity and Inclusion Summit will be held on Wednesday, May 27, from 1 p.m. to 3:30 p.m. ET, with presenting partners Google and Salesforce. Virtual seating for the event has been increased to accommodate overwhelming demand.
For all media inquiries, please contact: pr(at)adweek.com.
###
About Adweek
Adweek is the leading source of news and insight serving the brand marketing ecosystem. First published in 1979, Adweek's award-winning coverage reaches an engaged audience of more than 6 million professionals across platforms including print, digital, events, podcasts, newsletters, social media and mobile apps. As a touchstone of the advertising and marketing community, Adweek is an unparalleled resource for leaders across multiple industries who rely on its content to help them do their job better.