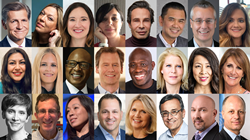 The Sustainability Council will work to find solutions to social and environmental challenges that can be implemented across the industry.
NEW YORK (PRWEB) February 23, 2021
Today Adweek announced the newly formed Sustainability Council, comprising CMOs and heads of sustainability from the world's top brands. An outgrowth of Adweek's longstanding focus on corporate sustainability efforts, as well as the success of its existing 40-plus member DEI Council, the Sustainability Council will work to find solutions to social and environmental challenges that can be implemented across the industry.
Marc Pritchard, Chief Brand Officer of Procter & Gamble (P&G), will co-chair this council with Adweek's Nadine Dietz. Pritchard, responsible for global marketing and media strategy for the world's largest advertiser and chair of the ANA, is a respected advocate for corporate responsibility. As Adweek's Chief Community Officer for the past two years, Dietz has assembled innovative leaders from across the industry to educate and empower brand marketers to excel across multiple global initiatives, and as co-chair she will ensure that the industry moves forward toward a better tomorrow. In addition to taking on the role of co-chair, Dietz will also shift into a new role with Adweek as a Strategic Adviser, as she commences her new Chief Marketing and Strategy role at VRM and Aria 360° AR. Heide Palermo, who has been an integral part of leading Adweek's community efforts, has been promoted to the Head of Community for Adweek.
The council will first focus on best-in-class brands and practitioners who are successfully implementing sustainable development goals into their company's brand purpose and DNA. These success stories will be shared at Adweek's Sustainability and DEI Summit: How Brands are Having a Global Impact for a Better World, a virtual event scheduled April 6-7, 2021, to spark creativity and encourage adoption of United Nations Sustainable Development Goals, including a deep dive into best practices for upholding diversity, equity and inclusion.
Current Sustainability Council members include:

Marc Pritchard, CBO, P&G (Co-Chair)
Nadine Dietz, Strategic Adviser, Adweek (Co-Chair)
Amanda Nusz, SVP, Corporate Responsibility, Target and President, Target Foundation
Arancha Cordero, Chief Growth Officer, Danone Waters
Billy Paretti, Global CMO - Belvedere Vodka, LVMH, Moët Hennessy
Dean Aragón, CEO and Vice Chairman, Shell Brands International AG
Douglas Sabo, Chief Sustainability Officer, Visa
Elmis Medina, Global Head of Sustainability, RBI
Ezgi Barcenas, Global Head of Sustainability, Anheuser-Busch InBev
Fiona Carter, CMO, Goldman Sachs
Frank Cooper III, CMO, BlackRock
Jim Andrew, Chief Sustainability Officer, PepsiCo
Kofi Amoo-Gottfried, VP of Marketing, DoorDash
Linh Peters, Global CMO, Calvin Klein
Meg Goldthwaite, Chief Marketing and Communications Officer, The Nature Conservancy
Peter Land, Chief Communications and Sustainability Officer, DICK'S Sporting Goods
Shin-pei Tsay, Global Head of Cities and Transportation Policy, Uber
Stuart Redsun, CMO, Waste Management
Virginie Helias, Chief Sustainability Officer, P&G
Advisers to the Council include:
Antonio Lucio, former Global CMO, Facebook
Jeff Litvack, CEO, Adweek
Maher Nasser, Director, Outreach Division, Department of Global Communications and Commissioner-General of the UN at Expo 2020, United Nations (participating in an individual capacity)
"With every year that goes by, it becomes clearer that brands cannot afford to ignore issues of sustainability," said Jeffrey Litvack, CEO of Adweek. "To best serve their customers, clients and employees, companies must have a clear brand purpose and commit to a culture of responsibility and accountability. We at Adweek are proud to play our part, as community builders and industry protagonists, to gather the most innovative leaders and facilitate sharing and promotion of their stories on how they are improving their companies, their industry and their planet."
"The people we serve expect brands and companies to be a force for good for society and sustainability, while also being a force for growth in business," said Pritchard. "It's an honor to come together with such an accomplished group of leaders to identify substantive, marketing-driven actions that can help make the world a better place."
"The longevity and health of our collective livelihood remains in jeopardy without industrywide adoption of critical sustainability goals. The challenge marketers face is multifaceted, given the wide array and interdependency of the goals and unclear commitment from their companies to invest in sustainability," said Dietz. "The key will be unlocking the connection between sustainability goals and business growth. I am honored to be a part of such an esteemed council focused on finding and sharing those keys with the industry."
About Adweek
Adweek is the leading source of news and insight serving the brand marketing ecosystem. First published in 1979, Adweek's award-winning coverage reaches an engaged audience of more than 6 million professionals across platforms including print, digital, events, podcasts, newsletters, social media and mobile apps. As a touchstone of the advertising and marketing community, Adweek is an unparalleled resource for leaders across multiple industries who rely on its content to help them do their jobs better.