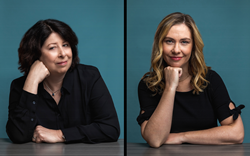 NEW YORK (PRWEB) December 11, 2020
Adweek, the leading source of news and insights covering marketing, media and technology, today announced the rollout of an ambitious growth strategy aimed at serving marketers with in-depth analysis and growing subscriptions.
In order to carry out this strategy, effective immediately, Adweek CEO Jeffrey Litvack announced a restructuring of the editorial leadership team.
Lisa Granatstein has been promoted to Chief Content Officer. She will be responsible for Adweek's content across the business, including editorial and events, while also acting as a brand steward in the marketplace. In her prior role as Editor, SVP, Programming, Granatstein was instrumental in catapulting Adweek's events business to global success – creating unforgettable experiences and moments on Adweek and Brandweek live and virtual stages – while also overseeing Adweek's award-winning magazine. Based on her leadership, she was recognized by Folio as one of the Top Women in Media in 2019.
Stephanie Paterik has been promoted to Editor in Chief, tasked with leading the editorial team and producing compelling content in line with Adweek's voice and mission across products and platforms. Most recently Paterik served as Adweek's Executive Editor, a key leader in transforming the venerable brand into a digital-first media company. Under her guidance, Adweek's newsroom has won awards for its multimedia storytelling, website experience, podcasts and investigative reporting, and Paterik was selected as a Folio 100 honoree. She will report to Granatstein.
"I am thrilled that Lisa will take the helm as Adweek's Chief Content Officer," said Jeffrey Litvack, CEO of Adweek. "As a longtime shepherd of the brand, she is a trusted voice in the marketplace with extensive product expertise, who will drive our next chapter of growth."
"Over the last three years, Stephanie has been a key editorial leader reshaping our newsroom," he added. "As we build out a robust mobile-first strategy featuring premium content, I cannot think of anyone more deserving and suited to take over as Editor in Chief."
Beginning in January 2021, the editorial leadership team will roll out a strategy designed to serve marketers with insightful, analytical and mobile-first content and further drive subscription growth. Adweek's subscriptions have already grown more than eightfold since it introduced a membership model in 2018.
"At a challenging time of disruption and change, Adweek recognizes the need to enhance coverage in areas where we see strong interest from our audience," Granatstein said, "as well as the necessity to double down on the distribution platforms where our premium content can be made even more accessible."
"I'm honored to lead a magazine that has played such a valuable role in the lives of marketers for more than 40 years," Paterik said. "As a team, our top priority will be finding new and better ways to help our readers get through these challenging days and achieve all the success they want in their careers."
For press inquiries, contact pr@adweek.com.
About Adweek LLC
Adweek is the leading source of news and insights serving the brand marketing ecosystem. First published in 1979, Adweek's award-winning coverage reaches an engaged audience of more than 6 million professionals across platforms including print, digital, events, podcasts, newsletters, social media and mobile apps. As a touchstone of the advertising and marketing community, Adweek is an unparalleled resource for leaders across multiple industries who rely on its content to help them do their jobs better.