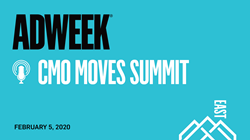 Only the brightest and most inspirational brand leaders are invited to join Nadine on CMO Moves, and we are delighted that as of today its guests represent almost $3 trillion of products, services, and solutions. — Adweek CEO Jeffrey Litvack
NEW YORK (PRWEB) February 05, 2020
Adweek, the leading source of news and analysis covering the advertising and marketing industry, announced today the official launch of its 100th episode of CMO Moves. CMO Moves, an Adweek podcast created and hosted by Adweek Chief Community Officer Nadine Dietz, showcases the human side of the world's top game-changing leaders, including Procter & Gamble's Marc Pritchard, Walmart's Janey Whiteside, Facebook's Antonio Lucio, GE's Linda Boff, Endeavor's Bozoma Saint John and NFL's Tim Ellis.
The CMO Moves podcast tells the stories behind the top CMOs and leaders in the industry. How did they get to where they are today, and what rules did they follow—and break—along the way? Featuring 100+ guests from some of the world's biggest brands, including Airbnb, Citi, Hilton, NASCAR, NFL, NHL, PepsiCo, Target, Verizon, Visa, Walgreens, Walmart and more, CMO Moves provides honest advice and first-hand insights from an intimate marketer-to-marketer perspective.
CMO Moves is a cornerstone of Adweek's Inside the Brand channel, which also includes the series Innovators, Challengers, Women Trailblazers and Gen ZEOs. Over a hundred business leaders profiled in these series have donated their time to the 2019 Adweek Executive Mentor Program, sharing their expertise in one-on-one sessions with select mid-senior-level marketers from as far away as Nigeria.
To celebrate the 100th episode of the CMO Moves podcast and the end of the first round of the Executive Mentor Program, Adweek and Dietz have invited featured guests from across the series, along with executive mentees, for private events in San Francisco on January 31st and New York on February 5th.
Dietz and Adweek CEO Jeff Litvack will ring the Nasdaq closing bell on February 5th in honor of the occasion. They will be accompanied by a group of leading CMOs and Chief Brand Officers who have been featured on CMO Moves.
"CMO Moves was the first podcast to showcase the voices and careers of today's chief marketing leaders and we are humbled by not only its devoted fan base and continuously growing audience, but also by recent shows imitating its format," remarks Jeffrey Litvack, Adweek's CEO. "Through this podcast and the Inside the Brand channel, we are able to provide invaluable industry insights and deliver essential advice to future brand leaders. Only the brightest and most inspirational brand leaders are invited to join Nadine on CMO Moves, and we are delighted that as of today its guests represent almost $3 trillion of products, services, and solutions."
Fans of the CMO Moves podcast can tune in here.
About Adweek
Adweek is the leading source of news and insight serving the brand marketing ecosystem. First published in 1979, Adweek's award-winning coverage reaches an engaged audience of more than 6 million professionals across platforms including print, digital, events, podcasts, newsletters, social media and mobile apps. As a touchstone of the advertising and marketing community, Adweek is an unparalleled resource for leaders across multiple industries who rely on its content to help them do their job better.