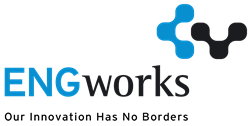 CHICAGO (PRWEB) May 13, 2020
ENGworks, the internationally recognized leader in Building Information Modeling (BIM) services and solutions to the Architecture, Engineering, Construction and Owner Community (AECO) today announced, Mike Collins will join the executive team as VP of Global Business Development. ENGworks has been establishing strategic alliances with some key industry vendors in an effort to build a Global Content Network bent on establishing much needed standards and quality guidelines.
Building Information Modeling (BIM) continues to impact the design to construction lifecycle with demands for a greater variety of content formats and richer product data. "We see a need to provide content solutions for the AEC/O community on a global level while supporting local project demands for languages, codes and standards. This can only be accomplished through a network of providers with localization skills all working within a common framework of quality and consistency, said Chris Di Iorio, CEO of ENGworks."
BPMs as the owners of this much needed product data must adapt their digital marketing strategy to deliver higher quality BIM-ready content to serve the new tools and processes not just in design, but through to fabrication and construction.
Mr. Collins brings over 25 years of experience in the AECO industry and is well connected to both the needs of BPMs and the many platform and portal vendors who need product content to support the demanding workflows of their users. After an early career in project data and analytics at Construction Market Data, Collins built the industry's first BIM content portal, BIMworld, which became the foundation for the Autodesk Seek content platform when acquired in 2008. Most recently he co-founded Global Product Data which helped BPMs get their product data to multiple AEC platforms.
About ENGworks (Chicago)
For three decades, ENGworks has been a technology leader continuously developing new processes and services to drive productivity for the AEC/O Community in their BIM and VDC workflows. The ENGworks mission is to help AEC/O professionals design and build better projects by reducing risks, saving cost, by combining cutting edge technology with their deep knowledge of the building lifecycle to create BIM technologies that impact construction productivity as well as building performance for Owners. Through its extensive expertise delivering technology and real-time building automation solutions with major players in Data Centers, Health Care, Hospitality and Government, ENGworks has become the technology and service provider of choice for the AEC/O and BPM community.