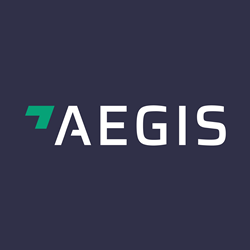 "The team at AEGIS has built a powerful platform that is modernizing commodity and rate markets," said Chris Payne. "It is incredibly exciting to join AEGIS during this stage in the journey and work with our clients, partners, and team to deliver the most forward-thinking capabilities."
THE WOODLANDS, Texas (PRWEB) January 22, 2020
AEGIS Energy Risk ("AEGIS"), the leading fintech and advisory solutions provider for commodity and rate hedging, announced today that Chris Payne has joined the company as its Chief Product Officer.
"We have established an industry-leading position through our technology and advisory capabilities," said Bryan Sansbury, CEO of AEGIS. "Even so, we are increasing our capital investments going forward. Chris will ensure those investments are applied to capabilities that are most important to our clients."
Chris joins AEGIS from Alight Solutions ("Alight"), where he most recently ran Alight's Digital Solutions business, driving development and adoption of leading digital capabilities for 500+ clients and 18 million users. Prior to this role, Chris was an Executive Vice President for Alight, responsible for transforming multiple Aon Hewitt (Alight predecessor company) consumer and client facing businesses.
Before joining Alight, Chris spent over 10 years in consulting and energy leadership roles across retail and wholesale power operations with Arthur Andersen, NewPower, and Direct Energy (Centrica North America).
Chris graduated with a Bachelor of Business Administration in Management Information Systems and Business Honors from the University of Texas at Austin. He has successfully completed a leadership development program at the University of Chicago Booth School of Business and is a former board member of the Woodlands Economic Development Partnership.
"The team at AEGIS has built a powerful platform that is modernizing commodity and rate markets," said Chris Payne. "It is incredibly exciting to join AEGIS during this stage in the journey and work with our clients, partners, and team to deliver the most forward-thinking capabilities."
About AEGIS Energy Risk
AEGIS Energy Risk is the leading fintech and advisory solutions provider for commodity and rate hedging markets, having been recognized as the Hedge Advisor of the Year for the last 3 years by Energy Risk Magazine. AEGIS' proprietary Engage and Flow software platforms and unmatched depth in the commodity and rate hedging markets combine to power companies, investors and lenders as they deploy, grow and protect capital. For more information, please visit AEGIS-energy.com.