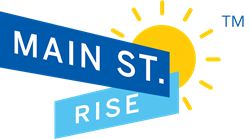 In every city, suburb, and rural community, we must spring to action to help our small businesses stay alive. MainStreet RISE gives business owners the support and tools they need to maximize revenue from consumers who want to help their own Main Streets.
WASHINGTON (PRWEB) May 06, 2020
The Association for Enterprise Opportunity (AEO), with Fanbank, GoDaddy, and other partner organizations, has launched MainStreet RISE, a new initiative to rescue 100,000 small businesses in low-wealth communities. Through a comprehensive suite of revenue-generating, web-enabled, marketplace technology and counseling solutions, AEO provides resources to help small business owners keep their businesses afloat during and after the COVID-19 pandemic. The program is targeted to more than 100,000 small businesses in low-moderate income communities, including minority, veteran, and women-owned small businesses, and available to all small businesses with less than one million dollars in pre COVID-19 revenue.
"Right now, the heartbeat of America—the small Main Street business—is on life support," said Connie Evans, president and CEO of AEO. "In every city, suburb, and rural community, we must spring to action to help our small businesses stay alive. MainStreet RISE gives business owners the support and tools they need to maximize revenue from consumers who want to help their own Main Streets."
A key feature of MainStreet RISE is free access to one of Fanbank's payments solutions that enables businesses to sell store credits through digital media. With a simple opt-in, businesses receive customized social posts, automated emails, landing pages, and print materials that include links for customers to buy in amounts ranging from $5 to $2,000. After an easy one-click checkout process, the much-needed cash is immediately sent to the business.
"This crisis is unprecedented on Main Street, but so are the technology tools we have to confront it," said Mitch Jacobs, CEO of Fanbank. "We are proud to join AEO in galvanizing this support for the most underserved small businesses. We are eager to share powerful fintech tools to help these vulnerable entrepreneurs tap revenue from the communities that want to support them."
GoDaddy, the company that powers everyday entrepreneurs, will provide a bundle of goods and services to enable digital business for those struggling to maximize their online strategies. "It is even more critical now that Main Street businesses establish an online presence," said Stacy Cline, director of corporate citizenship for GoDaddy. "Launching programs like #OpenWeStand and expanding our support of Empower by GoDaddy in partnership with AEO allows us to provide all the help and tools small businesses need to be online. By offering free resources, such as real-time webinars and digital presence content to help people move to e-commerce or rethink their current strategy, we're able to make an impact on those small businesses who have been affected by COVID-19."
For businesses in need of accounting help, Bench, a fintech company that gives expert bookkeeping services to small businesses, is providing access to their online bookkeeping technology services and team of accounting professionals. MicroMentor, a global nonprofit that matches small businesses to mentors online from anywhere across the globe, is offering their services so that small business owners can get quick support from trusted individuals. MicroMentor will also train volunteers who want to join MicroMentor as a certified mentor on their platform, and use their knowledge to help struggling small businesses.
"We care deeply about connecting volunteer mentors to small businesses faced with unexpected challenges due to COVID-19," said MicroMentor Executive Director Anita Ramachandran. "At a time when face-to-face connections pose a threat to public health and safety, our online community invites entrepreneurs and mentors to create profiles describing their respective business needs and skills, self-select a mentoring match from anywhere in the world, and start solving problems together. We are thrilled to be offering this support alongside our partner, AEO, and doing our part to help small businesses weather this storm."
Learn more about MainStreet RISE at https://aeoworks.org/mainstreetrise/.
About the Association for Enterprise Opportunity
The Association for Enterprise Opportunity is the leading voice of innovation for microfinance and microbusiness. Our mission is to create economic opportunity for underserved entrepreneurs throughout the United States. We engineer transformational change through research, convening, incubation, and advocacy to foster a robust and inclusive marketplace. For more information, please visit http://www.aeoworks.org.
About Fanbank
Fanbank's first-of-its-kind Transaction Intelligence™ platform executes real-time purchase actions on MasterCard, Visa, and American Express payments using customer purchase history, demographics, and firmographics, along with over 100 other data sources. Businesses processing over $30 trillion annually access Transaction Intelligence through their existing payments account without any new cards, apps, or changes to their POS. Learn more at http://www.fanbank.com.
About GoDaddy
GoDaddy is empowering everyday entrepreneurs around the world by providing all of the help and tools to succeed online. With 19 million customers worldwide, GoDaddy is the place people come to name their idea, build a professional website, attract customers, and manage their work. Our mission is to give our customers the tools, insights, and people to transform their ideas and personal initiative into success. To learn more about the company, visit http://www.GoDaddy.com.
About Bench
Bench is America's largest professional bookkeeping service for small businesses. Bench is helping small business owners access relief funding by preparing the financial statements they require, and offering consultative services to support relief funding applications. Visit http://www.bench.co to learn more.
About MicroMentor
MicroMentor is the world's largest community of entrepreneurs and experienced volunteer business mentors. MicroMentor's easy-to-use social platform enables the world's largest community of purpose-driven entrepreneurs and business mentors to create powerful connections, solve problems, and build successful businesses together. For more information, please visit: http://www.micromentor.org.