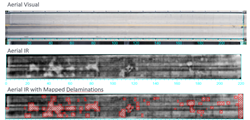 The adaption of infrared to a fixed-wing plane has opened the door to low cost, network-level delamination surveys.
FARGO, N.D. (PRWEB) March 07, 2023
Planes are proving to be more effective than chains when it comes to identifying delaminated areas on bridge decks; a defect that structural engineers seek to quantify and locate to better inform preservation, maintenance, and rehabilitation decisions. Over the past few years, Infrasense has been the industry leader in developing a methodology for network-level aerial infrared scanning of bridge decks. Infrared Thermography surveys offer a more objective alternative to chain-drag surveys for the purposes of mapping delaminations in concrete. Infrared captures high-resolution imagery showing delaminations at a distinctly different temperature than areas in sound condition. The adaption of infrared to a fixed-wing plane has opened the door to low cost, network-level delamination surveys.
Infrasense recently evaluated the condition of 85 interstate bridge decks located along I-29 and I-94 in North Dakota. The deck evaluations were carried out in a single afternoon, utilizing aircraft-based infrared thermography and visual imagery to identify and delineate areas of delamination and patching on the bridge decks. Chain drag was done on a small sample of decks by the state to compare results with the infrared findings, and both methods yielded good correlation of quantities with absolute error under 4%, as well as reasonably good spatial correlation of the defects.
Following the field surveys, the data is transferred to Infrasense's headquarters in Woburn, Massachusetts for quality assurance (QA) review, analysis, and reporting. The analysis is completed with the support of internally developed proprietary software. The software is specifically catered to the analysis of infrared and visual data for bridge deck and pavement applications. For the North Dakota bridge deck evaluations, the analysis resulted in quantities and maps of concrete delamination, patching, and spalling. These results are delivered in a comprehensive report with descriptions of the data collection procedures, equipment, analysis methods, and results obtained.
Over the past 12 months, Infrasense evaluated the condition of over 1100 bridge decks including nondestructive testing of decks in Connecticut, Delaware, Georgia, Illinois, Indiana, Massachusetts, Montana, New York, Pennsylvania, Rhode Island, Virginia, and Wisconsin. Infrasense methods have addressed a variety of bridge structure types, including asphalt, concrete, and epoxy overlays, stay-in-place forms, slab on girders, one-way slabs, and box girders. We have handled structures ranging in size from small 20-foot long stream crossings to major river crossings and viaducts up to 3 miles in length.
About Infrasense, Inc.
Since 1987, Infrasense, Inc. has applied advanced technologies to address the most difficult challenges in subsurface scanning. Infrasense engineers extract critical information using non-destructive methods from a diverse range of structures. In addition to providing ongoing subsurface evaluation services to clients across the country, the firm has also conducted numerous research programs to advance the field of subsurface detection and nondestructive evaluation. To learn more about Infrasense and the services we provide, visit our website:
http://www.infrasense.com