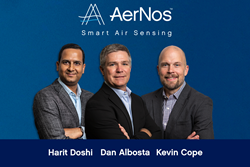 Talent coming to AerNos from some of the world's leading technology companies
SAN DIEGO (PRWEB) October 03, 2018
AerNos, an innovator in nano gas sensors, has expanded its senior management team with the appointments of Harit Doshi as Senior Vice President of Product, Dan Albosta, Vice President, Finance and Kevin Cope as Vice President and General Counsel. They join a team of executives with extensive experience building public and private companies and growing startups.
Harit, who will oversee product and sensor development, spent the past 16 years at E Ink in product management and business development roles. While at E-Ink, he led a US-Asia global team that shipped over 120M units of combined products, generating 50X+ revenue growth and 10X ecosystem partnership growth. As founding General Manager of the Digital Signage Unit, Harit grew the digital signage and interactive collaboration solutions business from scratch to tens of millions in business over 4 years. He has a B.S. in Chemical Engineering from Pune University, India and a M.S. in Polymer Science from Georgia Institute of Technology, Atlanta.
Dan joins as Vice President of Finance bringing 30 years of experience with companies including Microsoft, Qualcomm, PacketVideo and KPMG. His breadth of senior-level experience includes nearly two decades implementing and managing company-wide finance and accounting processes for start-ups as well as Fortune 500 companies. As Director of Finance at Qualcomm, Dan oversaw the team responsible for international and domestic accounting for the company's software and services businesses. He has a BS in Accounting from Regis University, Denver and an MBA from the University of Pittsburgh.
As Vice President, General Counsel, Kevin will manage all of AerNos's legal processes. He comes to AerNos from Seagate where he was Deputy General Counsel. He also served as Senior Legal Director for Yahoo!. Cope's extensive domestic and international leadership experience ranges from business formations to complex cross-border commercial transactions, mergers and acquisitions, corporate governance, corporate financings, securities and legal compliance, risk management, and general legal and business counseling. He has a BBA in Management of Information Systems from the University of Notre Dame and his JD/MBA from Villanova University.
Kevin, Dan and Harit round out a senior management team from respected technology companies that include Microsoft, Intel and HP. They bring a depth of experience needed to scale core areas of the business including product, manufacturing, global supply chain, engineering, software, system in a package (SIP) development and corporate development.
"The caliber of talent coming to AerNos from some of the world's leading technology companies is impressive," said Sundip R. Doshi, AerNos' CEO and Founder. "The leadership and experience that Harit, Dan and Kevin add to our team will help us achieve our ambitious goals and scale the company to meet the rapidly growing demand for our game-changing sensors."
About AerNos
AerNos, Inc. develops application-specific nano gas sensors based on its breakthrough and proprietary AerCNT Technology to detect harmful gases in the environment. AerNos nano gas sensors are designed to be easily integrated into consumer and commercial product lines such as standalone monitoring devices, non-stationary devices (e.g. drones, industrial robots, construction equipment), modes of transportation, wearables, smartphones, and the IoT. AerNos, AerBand, AerIoT, AerCity and AerHome are trademarks of AerNos, Inc. For more information, please visit http://www.AerNos.com. You may also contact us at media@AerNos.com.