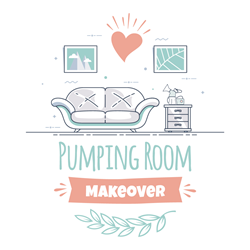 "Research shows that supporting breastfeeding moms in the workplace provides major benefits to business, like decreased turnover and increased productivity, both of which positively impact the bottom line," said Jennifer Jordan, Director of Mom & Baby at Aeroflow Healthcare. "
ASHEVILLE, N.C. (PRWEB) August 02, 2018
Aeroflow Breastpumps, a subsidiary of Aeroflow Healthcare - an Inc. 5000 fastest growing company - today announced the launch of its first-ever Pumping Room Makeover. With the goal of bringing awareness to the importance of safe, comfortable lactation rooms, and coinciding with World Breastfeeding Month, this initiative will provide one grand prize winner with a pumping room makeover in their place of employment. Lansinoh and Spectra are among the initiative's sponsors.
To enter, employees or employers can visit and fill out a quick entry form, as well as submit pictures of potential lactation room locations at their businesses. Entries will be accepted from August 1 - August 31, 2018, and Aeroflow Breastpumps team members will personally visit the winning business to set up the perfect pumping room with items like a comfortable chair, mini-fridge, microwave, and pumping accessories.
"The idea for this Pumping Room Makeover started when we saw pictures of moms pumping in closets at work, a concept that just cannot be the norm moving forward," said Cheri Hoffman, Brand Manager for Mom & Baby at Aeroflow Healthcare. "Our mission is to increase the instances of breastfeeding nationally and to be a voice for moms everywhere. The Pumping Room Makeover goes beyond just redoing a lactation room, but also creates a template for moms and businesses seeking to create lactation rooms of their own."
"Research shows that supporting breastfeeding moms in the workplace provides major benefits to business, like decreased turnover and increased productivity, both of which positively impact the bottom line," said Jennifer Jordan, Director of Mom & Baby at Aeroflow Healthcare. "On average, breastfeeding mothers miss fewer days of work and have a strong sense of motivation and company loyalty when they feel supported in their pumping routine, and a lactation room is a major part of that support."
"The Lansinoh team is very excited to partner with Aeroflow Breastpumps because we know that many moms deserve better pumping spaces at work," said Molly Petersen, Director of Healthcare Marketing and Customer Relations at Lansinoh. "We hope this will bring to light the importance of these spaces for new moms, and inspire other companies to do the same for their employees."
Resources like infographics, blogs, and educational articles on pumping rooms and back-to-work plans for breastfeeding moms will also be available on AeroflowBreastpumps.com. In addition to the grand prize, there will be five $500 gift basket prizes, filled with breastfeeding and pumping accessories.
About Aeroflow Breastpumps
Aeroflow Breastpumps, a subsidiary of Aeroflow Healthcare, is a Durable Medical Equipment (DME) provider specializing in helping pregnant and nursing women qualify for their breast pump through their insurance. Its mission is to increase the instance of breastfeeding nationally through the best equipment, support and education, and exceptional customer service. Visit AeroflowBreastpumps.com for more information.