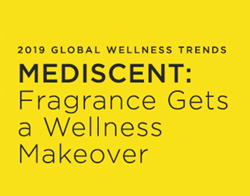 The article notes Aeroscena®'s leadership position in the area of "Aromatherapy 2.0" or "Scent as Medicine" -- a new way of looking at scent's wellness effects, utilizing evidence-based statements. This 'second wave' view...relies on scientific studies to legitimize aromatherapy's health benefits.
CLEVELAND (PRWEB) March 14, 2019
Aeroscena® was recently featured in the 2019 Global Wellness Trends Report in an article entitled "Mediscent: Fragrance Gets a Makeover." The article details ways in which scent is influencing wellness trends across multiple industries and environments, including medical, hospitality, travel and personal care, as well as product and brand marketing. Aeroscena® was highlighted as a pioneering force for clinical aromatherapy in the United States, where its medical use and acceptance has faced more significant hurdles than in other countries, in particular, those in Western Europe. The article states:
"Companies like Aeroscena®, based in Cleveland Clinic's Innovations Lab, are literally redefining and relabeling aromatherapy. The company has trademarked the term "phyto-inhalants™" to describe its line of plant-based aromatherapeutics formulated to specifically treat health symptoms, such as pain, nausea and anxiety."
The article also notes Aeroscena®'s leadership position in the area of "Aromatherapy 2.0" or "Scent as Medicine" -- a new way of looking at scent's wellness effects, utilizing evidence-based statements. This "second wave" view of aromatherapy relies on scientific studies carried out in controlled hospital and clinical settings, rather than folklore and hearsay, to demonstrate and legitimize aromatherapy's positive health benefits.
In fact, dozens of hospitals and specialty treatment centers around the country, including Moffitt Cancer Center and Virginia Commonwealth University, are already utilizing Aeroscena®'s Ascents® personal aromatherapy inhalers as an adjunct treatment option to mitigate symptoms and side-effects of illnesses or medications, such as nausea, insomnia and anxiety for their patients.
Aeroscena®'s relationship with indoor wellness thought leader Delos Living is mentioned as well, shining a spotlight on the company's inclusion in Delos' Stay Well™ Shop. The online store currently offers a range of products curated by Delos, such as Aeroscena®'s Ascents® clinical aromatherapy diffuser systems and patented essential oil gel pods, that promote a healthier indoor environment.
Ascents® diffusers and gels are currently placed in Delos' signature Stay Well™ suites, an upgraded room category available when staying with some of the most respected hotel brands in the world, including MGM, Wyndham, and Marriott International. Further expansion of the program is expected both domestically and internationally.
Ascents® systems are often selected as the scenting option of choice for hospitality applications due to the 100% natural, patented dry gel technology utilized to control the diffusion of essential oils into the air. These gels are the first of their kind, requiring no water or heat to activate; therefore, the diffusion process does not alter the delicate, therapeutic compounds contained in the scientifically formulated blends in any way. It produces no smoke or ozone, resulting in an exceptionally clean diffusion, making them an excellent choice to naturally scent hotel rooms or provide an aromatherapeutic touch to suites for discerning travelers.
Aeroscena® looks forward to continuing to bridge the gap between science and scent for the sake of wellness in both clinical and commercial environments as the company moves through 2019 and beyond.
About Aeroscena®, LLC
Established in 2010, Aeroscena® is the parent company and research and development organization behind Ascents®-branded clinical aromatherapy formulas. Ascents® formulas are the only aromatherapy products that are recommended by doctors, used by hospitals®. Aeroscena® is located in the Cleveland Clinic Global Cardiovascular Innovations Center in Cleveland, OH. For more information about Ascents®, visit https://www.shopascents.com. For more information about Aeroscena®, visit https://www.aeroscena.com or contact the company via phone at (800) 671-1890.