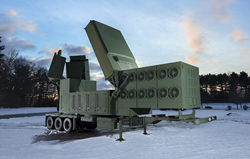 AKRON, Ohio (PRWEB) July 09, 2020
Additive Engineering Solutions (AES) is pleased to announce the recent completion of a project for Raytheon Technologies of a mock-up for the future air and missile defense radar system of the United States Army.
The official project took nearly three months to complete, but the manufacturing stages of the mock-up had a tight six-week timeframe, which AES successfully executed.
After completion, Raytheon publicly unveiled the mock-up at the Association of the United States Army trade show Oct 14-16, 2019. On Oct 17 2019, the U.S. Army awarded the company with a $384 million contract to build the first six production representative units of the Lower-Tier Air and Missile Defense System (LTAMDS).
Project discussions between the two companies began in October 2018.
To date, this is one of the largest mock-ups that AES has manufactured on such a quick turnaround time. Using high-density urethane foam as well as the use of CNC machines, has reinforced that AES is flexible and equipped beyond the 3D printing capabilities and engineering services for the large-scale tooling projects that it is most well-known for.
"Our employees really stepped up to the plate for this initiative," said Andrew Bader, co-founder and vice president of AES. "They knew there would be some long nights ahead. Everyone did everything that they had to do to get it done. We were all equally excited to work on this project."
AES' services include design engineering, materials development, large-scale 3D printing, CNC machining, finishing applications, and inspection, many of which were applied to the project for Raytheon.
About Additive Engineering Solutions
Located in Akron, Ohio, Additive Engineering Solutions (AES) was founded in 2016 as the world's first contract manufacturer for large-scale 3D printing services. The company leverages the use of BAAM 3D printing technology and large scale machining, enabling the assistance of the design and execution of large-scale mock-ups and prototypes as well as tooling & molds for a variety of industry needs.