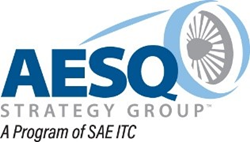 WARRENDALE, Pa. (PRWEB) October 06, 2020
The Aerospace Engine Supplier Quality (AESQ) Strategy Group issued revised "Management of Key Date Related Approvals" guidance in response to the ongoing impact that the COVID-19 pandemic has had on aerospace suppliers. COVID-19 has caused significant disruption to the standard operating procedures of those services relied upon for training, calibration and testing, so in response, AESQ member companies offered best practices to manage these issues in order to safely continue to make and assemble products.
AESQ worked with subject matter experts to define the revised "Management of Key Date Related Approvals" guidance to clearly explain how to mitigate the current risks while ensuring the safety of products, employees and suppliers. The guidance covers key aspects of Calibration Control, Special Processes, Welding and Joining and Non-Destructive Testing (NDT).
Focused on the COVID-19 pandemic where Revision 1 covered the initial period from January 2020 through September 30, 2020, Revision 2 extended this guidance to December 31, 2020. No further extensions to this guidance will be given and compliance to industry standards is expected on or before December 31, 2020. If compliance to industry standard cannot be achieved, the supplier will need to notify their customers as soon as possible so a risk assessment and remedial actions can be implemented.
All documents are intended as guidance only. Industrial bodies, international standards and customer specifications may have alternate requirements, all of which should take priority. The normal order of document hierarchy and precedence for requirement flow-down still applies, and this guidance may be referred to within each organization's applicable documents.
The revised "Management of Key Date Related Approvals" guidance is now available at https://aesq.sae-itc.com/content/aesq-documents.
About AESQ
The Aerospace Engine Supplier Quality (AESQ) Strategy Group, a program of the SAE ITC, was established to develop, specify, maintain, promote and deploy quality standards specific to the Aerospace Engine supply chain. This work is intended to reduce customer specifics through a focused set of standards that integrate industry best practice and aerospace engine unique elements. AESQ member companies include GE Aviation, Pratt & Whitney, Rolls Royce, Safran, GKN, Honeywell, Howmet, IHI, MTU, and PCC. Further information about AESQ including SAE G-22 standards, future events, training opportunities and supporting documents can be found on AESQ's website at: http://aesq.sae-itc.com
SAE Industry Technologies Consortia (SAE ITC®) is an affiliate of SAE International. The SAE ITC team specializes in establishing and managing consortia by providing proven processes, tools and resources. ITC enables public, private, academic and government organizations to connect and collaborate in neutral, pre-competitive forums thus empowering the setting and implementation of strategic business improvements in highly engineered industries globally. http://www.sae-itc.com
###