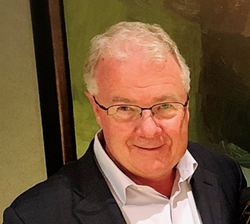 "The Aesthetic Business Institute is thrilled to have Jerry as part of the board of directors," said Francis X. Acunzo, chairman of the ABI board and CEO of Acara Partners. "He is a visionary in healthcare software and brings an experienced and unique perspective to the ABI board."
BRANFORD, Conn. (PRWEB) July 07, 2020
The Aesthetic Business Institute (ABI) has announced that Jerry Jacobson, CEO and founder of PatientNOW, has been named to their board of directors, joining a group of renowned aesthetic medical business professionals.
PatientNOW was founded in 2004. Under Jacobson's leadership, PatientNOW provides an all-in-one mobile, tablet and Windows app that enables clinicians to manage their entire practice from a single piece of software, eliminating the need to use four or five separate programs for cash-pay medical practices. PatientNOW is the innovation leader in practice management, patient engagement, scheduling and EMR systems for specialty practices including cosmetic surgeons, health & wellness, dermatology, and medical spas.
Its main features include streamlining medical record keeping, facilitating billing, tracking business KPIs, and driving customer acquisition and retention.
"The Aesthetic Business Institute is thrilled to have Jerry as part of the board of directors," said Francis X. Acunzo, chairman of the ABI board and CEO of Acara Partners. "He is a visionary in healthcare software and brings an experienced and unique perspective to the ABI board."
Jacobson joins a group of business and medical aesthetic experts on the ABI board of directors – more details found at aestheticbusinessinstitute.com/about.
Under the direction of Erica Collins, executive director, and John Powers, PhD, director of education and research, the Aesthetic Business Institute is part of the Acara Partners family of businesses. Since 2003 when Acara Partners was founded, entrepreneurial husband-and-wife team Francis and Colleen Acunzo have applied their years of experience in the aesthetic medical world with great success. Their experience and dedication has established Acara Partners as the industry's quintessential, comprehensive business advisory, marketing, advertising and digital agency.
The Aesthetic Business Institute was established in 2017 and launched an online educational platform in 2019, providing the leading industry intelligence for the aesthetic medical industry. Becoming an ABI fellow provides the user with online education, operational manuals, financial calculators, business toolkits, published research and certification opportunities prepared specifically for physicians, practice managers, practice owners, providers and aesthetic industry executives. "With the aesthetic medical field reopening after the COVID-19 crisis, ABI is poised to help practices to relaunch, grow, and succeed at the highest levels," Acunzo said.
For more information on Aesthetic Business Institute, please visit: http://www.aestheticbusinessinstitute.com.