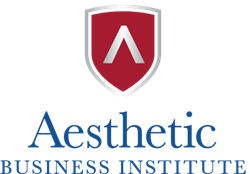 "Erica brings experience in the aesthetic medical industry and a great energy to ABI as we are at the point of formally launching and expanding this educational and resource platform."
BRANFORD, Conn. (PRWEB) November 08, 2018
The Aesthetic Business Institute (ABI) has named Erica Collins as its new Executive Director. She will begin her duties with ABI on November 12, 2018.
Collins comes to this Senior role at ABI after years of leadership positions in the aesthetic medical industry, specifically with Cynosure. Most recently, she served as the senior customer marketing program manager, where she oversaw a highly successful and innovative customer marketing program and support team. In addition, Collins has led various sales support and product programs with Cynosure, including managing the minimally invasive and non-invasive body contouring product line. She is a graduate of Bryant University with a bachelor's degree in marketing management that includes double minors in biotechnology and sociology.
"We are thrilled to have Erica joining ABI as executive director during this crucial and exciting launch period for the Institute," stated Francis X. Acunzo, chairman of the ABI advisory board and CEO of Acara Partners and Reach Beyond Marketing. "She brings experience in the aesthetic medical industry and a great energy to ABI as we are at the point of formally launching and expanding this educational and resource platform."
John Powers, Ph.D.​, will continue to work with ABI as the director of education and research, and will partner with Collins on all initiatives related to the institute.
"I am very excited to join ABI in the role of executive director," Collins commented. "My previous industry experiences and passion for supporting physicians to drive practice growth aligns with ABI's core mission of providing sound business intelligence for practice education and development. This role is a fantastic opportunity to spearhead the successful expansion and growth of the ABI education platform."
About the Aesthetic Business Institute
ABI joins Reach Beyond Marketing, a digital communications and marketing agency, as part of the Acara Partners family of businesses. Under the leadership of Francis and Colleen Acunzo, this entrepreneurial husband-and-wife team leveraged their years of experience in the aesthetic medical industry when they co-founded Acara Partners in 2003. Their dedication has established Acara Partners as the industry's leading, comprehensive business consulting group.
The Aesthetic Business Institute will officially launch in 2019 with an educational platform designed to provide "industry intelligence to the aesthetic medical industry." Membership in ABI will provide online education, published research, seminars, online classes, best practices, trends reports, and events for physicians, practice managers, practice owners, providers, and aesthetic industry executives. "The aesthetic medical field is blossoming in so many ways, and ABI will help to establish benchmarks and best practices for conducting business. Overall, ABI will provide insights to help practices grow and improve," Francis Acunzo added.
For more information on the Aesthetic Business Institute, please visit: http://www.aestheticbusinessinstitute.org