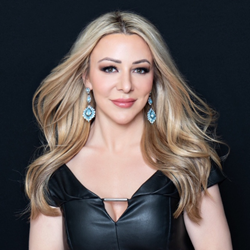 Over the last two years, we have designed and implemented progressively better versions of the platform with over 300 features that make the end-to-end data collection and business intelligence a key differentiator of our platform.
DALLAS (PRWEB) June 28, 2019
Aesthetic Record, a complete EMR & Practice Management software solution, announced an expansion of its leadership team today with the appointment of Tiphany Lopez, PhD, MBA, as its Chief Growth Officer. In her role, Lopez will be charged with accelerating the next phase of the commercial launch of Aesthetic Record and furthering the company's mission of using its best-in-class technology to drive the aesthetic industry toward more sustainable, scalable, modern business practices.
Lopez joins Aesthetic Record with a proven track record of delivering exceptional results throughout her career. Most recently, as the Associate Director of HCP Training & Education at Galderma Laboratories, she led injectable training for the US Aesthetic Business via the the Galderma Aesthetic Injector Network (GAIN), more than doubling the size of the program and creating the largest return on investment in the company's portfolio. She was tasked with continually innovating the GAIN brand through the development and execution of new programs, new formats, and managing a large group of faculty trainers across thousands of programs. While at Galderma, she led the creation of LucyLiveTM, a 3D application for modern anatomy training, and she was integral in the successful commercial launch of the 4 most recent FDA approvals. In her role at Galderma, she also created and led a practice management lecture series, AMP, where she guided practice leaders in uncovering opportunities to build more profitable and scalable enterprises with Galderma's products, often showcasing technology, including Aesthetic Record, as a best practice for success.
Prior to joining Galderma, Lopez was the Associate Director of Training for Dillard's, Inc, leading organizational & talent development initiatives for 256 retail department stores across the US. She was also the principal consultant on several training initiatives with Walmart, Inc., Sam's Club, and Tyson Foods. As a Client Solutions Director at SVI, she launched LearnerMobileTM to the world's largest beauty, cosmetic, and consumer-packaged-goods companies.
Lopez has been closely watching the rise of Aesthetic Record in the last few years as she worked with practice owners and managers struggling to quantify or track basic metrics or extract essential data from their disconnected systems. She believes, "The opportunity to come into this role at such an exciting time for the team and to offer the industry a technology platform as complete and game-changing as Aesthetic Record makes my job easy. As I've witnessed the evolution of this software, I feel extremely confident in the leadership at Aesthetic Record from the technology direction down to how the team thinks about pricing, training and anticipating the needs of the customer. The industry needs Aesthetic Record, and from spending several years in this world day-to-day, it's ready for it now."
With more than 2500 providers using the platform, the company's Founder & CEO, Justin Harper, MD, has been at the helm, driving the direction of its development, and creating the most robust practice management and EMR solution available to aesthetic providers. According to Harper, "Over the last two years, we have designed and implemented progressively better versions of the platform with over 300 features that make the end-to-end data collection and business intelligence a key differentiator of our platform. The company is on the cusp of explosive growth, and it's the right time to bring on a Chief Growth Officer. We need someone solely focused on the strategic design of our rapid expansion and to ensure there is no disruption in our exceptional customer experience."
One of Lopez's major initiatives in her role as Chief Growth Officer is the launch of Aesthetic Next, the first annual Aesthetic Record User Conference, to be held in Dallas, TX on September 6-8. The event will host more than 300 attendees from around the world for a three-day information exchange focused on business, clinical, and technology education. To learn more about the Aesthetic Next Conference, visit http://www.aestheticnext.com or contact planning@aestheticnext.com.
About Aesthetic Record
Aesthetic Record is an all-in-one, fully integrated Electronic Medical Records (EMR) and Practice Management Solution designed to make the job of running your practice easier. As a cloud-based, HIPAA- compliant software platform, it takes the guesswork out of successful medical spa management with over 300 features to meet constantly changing clinical demands. Aesthetic Record is scalable and customizable, so as your practice grows, the system grows with you, no matter the changes in size or complexity. With the best end-to-end data tracking and reporting available in the industry, it's never been faster or easier to connect, treat, and manage your most important asset, your patients. For more information on Aesthetic Record, visit http://www.AestheticRecord.com or contact info(at)aestheticrecord(dot)com.