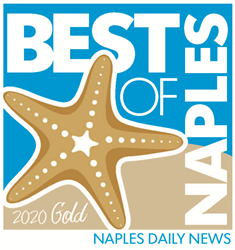 NAPLES, Fla. (PRWEB) September 01, 2020
The Aesthetic Surgery Center recently achieved the distinction of winning the Naples award for Best Cosmetic Surgeon for the fourth year in a row. The Best of Naples Awards are given to local businesses for their excellence and best practices. A tradition in the making, the Best of Naples Awards reflect the appreciation the local community has for its top businesses in a range of fields. With an 18 year history, the program works with business owners, professional associations, and other local stakeholders to recognize the exemplary contribution and extraordinary achievement.
From web designers to tourist destinations and from real estate to health and fitness, Best of Naples captures the pulse of Southwest Florida. The organization is an authority on recognizing quality and thousands of consumers trust the awards.
The Aesthetic Surgery Center, headed by Dr. Anurag Agarwal, Dr. Richard Maloney, and Dr. William Ross, provides innovative, high-level plastic surgery to its clients. It also specializes in non-surgical treatments that focus on anti-aging and rejuvenation. The practice also houses skin spa services and access to innovative skincare products.
The selection by Naples Daily News as the best cosmetic surgeon for four consecutive years comes as a continuation of the practice's tradition of excellence. The Aesthetic Surgery Center is an AAAASF-accredited operating facility.
The AAAASF, which is short for the American Association for Accreditation of Ambulatory Surgery Facilities is an organization that examines thousands of facilities around the world. Receiving accreditation requires adhering to the highest of medical standards as set forth by the AAAASF, an organization established in 1980.
Between them, the practice's surgeons have conducted thousands of procedures in facelift surgery, rhinoplasty, lip enhancement, blepharoplasty, liposuction, breast enhancement, and body contouring aesthetic surgery. Their website has a 5-star average from dozens of reviews and many patients share their testimonials. Dr. Anurag Agarwal, Dr. Richard Maloney, and Dr. William Ross have extensive academic backgrounds. Their focus is on the safety and comfort of their patients while all team members are active in their communities.
The Aesthetic Surgery Center is a practice that specializes in enhancing the face and body of its clients. Based in Naples, FL, the practice collectively possesses over 60 years of experience in the field of plastic surgery.
If you live in Naples, Fort Myers, or the Marco Island areas and need help with your cosmetic goals, please fill out the contact form on the Aesthetic Surgery Center's website. Those that prefer to speak on the phone can call (239) 594-9100. The staff is very prompt in answering online requests and is more than happy to speak on the phone with those interested in boosting their self-confidence.